Archive for the 'Generation Me' Category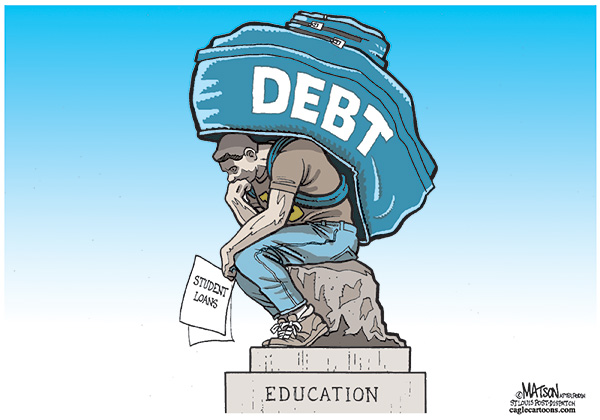 I listened to this podcast (This Week in Venture Capital) about a company focusing on organizing a students debt and loans. More than the company, the stats really stuck out for me.  Here they some and what they mean:
Student debt is HUGE. Student debt over last 10 years has doubled to a trillion dollars.  Here' the breakdown: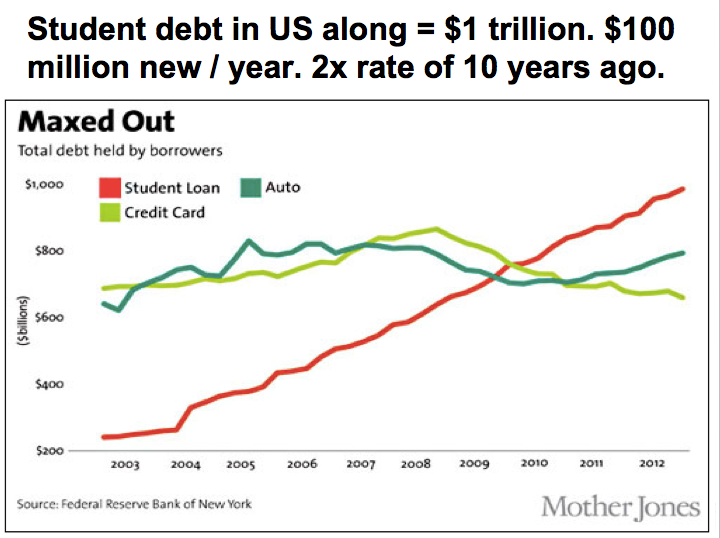 People can't get jobs still. 50% of people graduating from University are unemployed or underemployed
It's not just poor, it's a lot of people. 2/3 of all students graduating in 2008 took on debt
It's a problem that isn't being solved. Of the 2008 grads that took on debt only 22% of these are current (aka up to speed on their payments)
It's not just young people anymore. 34% of all outstanding debt in US is held by people 40 years or older
This is fundamental problem in America and it's impacting everyone at all ages and areas.  I feel like it should get great attention and be a bigger part of the "what's wrong with America" conversation.
Luckily, the changes in the education system will cause more schools with more affordable opportunities to emerge.  Kahn Academy U can't come fast enough apparently.
I got to quite a bit of live music shows.  I try to see my favorite acts whenever they roll through Colorado.  I just went to Coachella and in the past year i've seen Mumford, The National, Wilco, Andrew Bird, Shins, Radiohead, Childish Gambino, Band of Horses and others.  I like these shows but they are also frustrating.  I increasingly find that rock bands do nothing more than just play the songs from their album, in a way that sounds just like the tracks on the album and i leave the venue wonder why I went.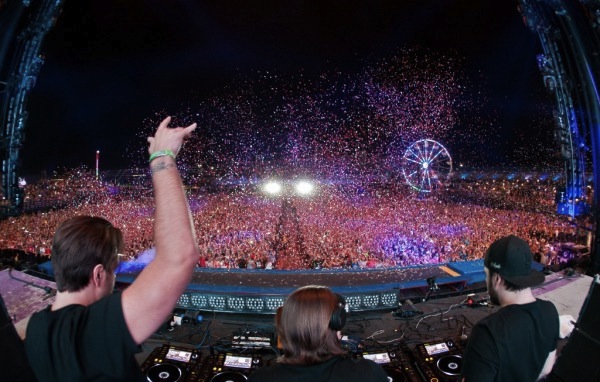 I began to think back to why people used to go to shows.  In the past, i could imagine that music represented more than it does today. It represented a movement. The Rolling Stones and Elvis were a powerhouse that were more than just great songs.  Or, i could see how an artist's lyrics (such as Bob Dylan's) were so meaningful that their concert was more akin to a speech or a rally.   None of these are happening in indie rock today.
However, i do see this stuff happening with the electronic music scene.  Two things are different. First, now that music is digital, the instruments of today are the computer and that's resulting in brand new music that is truly different than anything that's come previously.  Second, the concerts where this is played are extremely social.  The DJ's aren't just playing music for an audience, the audience is involved. Very involved.  As my friend JT said this weekend after hearing Swedish House Mafia, "it feels like the DJ's are conductors."
Also, these electronic artists don't need major labels.  They are proficient in interacting and promoting online.  If fact, most of them don't even release albums in the traditional sense.
It feels to me that this electronic music scene is the future. Bob Lefsetz agrees with me.  I just hope i'm not too much of a dinosaur to enjoy it.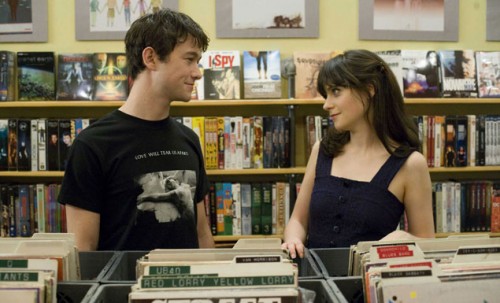 Last month i saw the film 500 Days of Summer. I have a few thoughts about it:
In the film, the main character is a guy who writes greeting cards. While this is his job, he's actually an architect. When i heard this, the movie immediately became less original and unique

to me. Being an architect is such a cliche now. Ever since Something About Mary it's been used in every romantic-comedy around. I understand why. If you're a woman, an architect embodies all the qualities you'd want in your man's job: it's creative, it's independent, it's the perfect mix between corporate and entrepreneur.

You must quit your job to be happy. Such a load of crap. In modern movies there are really only four types of themes: (1) "Believe in yourself and you can do anything." (2) "We are all alike underneath." (3) "Love conquers all" (4) "Good people win."  Almost all movies are one or more of these themes.  I was sort of bummed that this movie became a #1 (Believe in yourself) movie when he quit his job.  It just made the whole thing more cliche to me.  Hollywood loves this message and it's all over the place – almost every tv show and movie is saying this.  I was hoping for more realism
In real life, everyone knows the situation where there's a couple where both people really like each other. They get along great and things seem fine. However, one person likes the other person way more. The other person is into the relationship, but not enough. They break up and people wonder why. This happens all the time. However, it never happens in movies. The only other movie i know of where this happens is Woody Allen's Annie Hall. I also think that just because this movie tackles this situation is why so many people see it as novel or unique.
It's amazing how good the guy from 3rd Rock From The Sun looks (Joseph Gordon-Levitt).  He was so nerdy in that show and he's really pretty cool in this movie. I liked him a lot as an actor – even though i thought his character was a sap.  I also didn't even recognize him as the doctor in GI Joe.
All in all, i really liked the movie and thought it was fresh and fun.  I also like the music in it.  It's worth checking out
Related articles by Zemanta
An interesting article (Read the Article at HuffingtonPost) was sent to me today about the "quarterlife crisis" that people experience around the age of 22-26.
This is a common statement i've heard by many people. I think much of it stems from the expectations of family and society (aspirational TV, for example) going up and the realities of the world coming down (ability to get a job and succeed being that much tougher)
When the expectations and reality are conflicting, people get frustrated. Combine that with the trend that people move around so much and don't have a solid "base" and you get a crisis. We're malnourished in our relationships.
I can't read an article like this and not immediately go bak to the book "Generation Me" which i wrote about here: http://loo.me/2008/05/15/generation-me/ Check it out.


There is an article in the NY Times a few weeks ago called "Brave New World of Digital Intimacy" and i think it's one of the best pieces i've read in a long time at explaining why Facebook Status, News Feed, Twitter and other new digital platforms are useful and popular.
The online area that the article talks about is "incessant online contact" or as some call it, "ambient awareness." In the offline world people pick up on moods by little things like body language, sighs, little comments, etc..  In the online world this is being done by microblogging tools like Twitter (140 character updates), Dopplr (where are you traveling?), Tumblr (what web items do you like), and Facebook's Status Feed.  The article asks the question that i get asked all the time, Who cares?:
For many people — particularly anyone over the age of 30 — the idea of describing your blow-by-blow activities in such detail is absurd. Why would you subject your friends to your daily minutiae? And conversely, how much of their trivia can you absorb? The growth of ambient intimacy can seem like modern narcissism taken to a new, supermetabolic extreme — the ultimate expression of a generation of celebrity-addled youths who believe their every utterance is fascinating and ought to be shared with the world.
This is indeed how many people view it.  But the genius of the article is how it explains the subtle usefulness of the information:
Each day, Haley logged on to his account, and his friends' updates would appear as a long page of one- or two-line notes. The updates were indeed pretty banal. One friend would post about starting to feel sick; one posted random thoughts like "I really hate it when people clip their nails on the bus"; another Twittered whenever she made a sandwich — and she made a sandwich every day. Each so-called tweet was so brief as to be virtually meaningless.

But as the days went by, something changed. Haley discovered that he was beginning to sense the rhythms of his friends' lives in a way he never had before. When one friend got sick with a virulent fever, he could tell by her Twitter updates when she was getting worse and the instant she finally turned the corner. He could see when friends were heading into hellish days at work or when they'd scored a big success. Even the daily catalog of sandwiches became oddly mesmerizing, a sort of metronomic click that he grew accustomed to seeing pop up in the middle of each day.

This is the paradox of ambient awareness. Each little update — each individual bit of social information — is insignificant on its own, even supremely mundane. But taken together, over time, the little snippets coalesce into a surprisingly sophisticated portrait of your friends' and family members' lives, like thousands of dots making a pointillist painting. This was never before possible, because in the real world, no friend would bother to call you up and detail the sandwiches she was eating. The ambient information becomes like "a type of E.S.P.," as Haley described it to me, an invisible dimension floating over everyday life.
This is exactly how it works.  Now, i don't have ESP through this but i do enjoy the knowledge of how my friends' lives are progressing. These tools have enabled that to happen and it has certainly enhanced my relationships with them.
Last week a reporter (Robert Lanham, author of "The Hipster Handbook") published "Generation Slap… a call to arms against Millennials." He describes Generation Me as "naive, self-important, and perpetually plugged in."  It didn't take long for 22-year-old Gawker writer Alex Pareene to step in and defend his generation.  His essay:
Their moment is over. Finally. They got more than they deserved, considering that Millennials outnumber them by nearly 50 million. There are more of us Millennials than there were Baby Boomers! We threaten to overshadow everything Generation X fought so hard for. Like Adam Sandler movies and extreme sports.

"They think updating a spreadsheet while simultaneously posting to a Twitter account about the latest gossip on perezhilton.com is an essential corporate skill," Lanham insists. "And, like Kevin, they're always doing stupid shit, but rarely getting called on it." To the contrary, Millennials are the first generation whose every dumb mistake is archived forever on computer networks. We're the first Googleable generation! (Just ask Kevin Colvin, who, unless he changes his name, will have to carry around this minor indiscretion forever.)

Gen Y's permanent records are instantly accessible by anyone and everyone with a MacBook. Or a smart phone. Maybe it's healthier that way. I certainly don't love the culture of microblogging every 40-ounce consumed, but I'll entertain the controversial opinion that it's not the end of the world. It may, in fact, make Millennials less screwed up about navigating social spheres. You won't find us wringing our hands about the dissolving borders between public and private life. We've never differentiated between the two. Yes, we overshare. But we also don't drop our monocles every time someone updates their Facebook relationship status.
As you know i'm coming off reading Generation Me (last post) and love pondering the differences between the generations
I just finished reading a fascinating book called Generation Me. It's a non-fiction book about the youngest generation. The book dives into all aspects of this generation. It's major parts are worth repeating:
Generation Me doesn't need you approval. They don't care what anyone thinks. For them social rules are out the window. It's all about individual needs and desires. Because of this many changes in society occur from increased swearing, more self-expression, lack of respect for other individuals and social conventions. The book states right in the beginning:
July 2005, when about half the members of the Northwestern University women's lacrosse team wore flip-flops during the White House visit
It's all about self-esteem. Generation Me is raised to have very high self-esteem. By giving a gold star to everyone and removing the goals from the soccer field, kids are raised to think they are great – and they believe it. Because of this lots of Generation Me are narcissists. Narcissism is the darker side of the focus on the self, and is often confused with self-esteem. Self-esteem is often based on solid relationships with others, whereas narcissism comes from believing that you are special and more important than other people which is what happens when someone's been told their entire life that they are great.
You can be anything you want to be. This is also shoved down their throats in movies, books and society. Because of this most of Generation Me thinks they'll be famous. They all believe they'll be an actor, artist or at least on TV.
Most people are not going to realize their dreams because most people do not dream of becoming accountants, social workers, or trash collectors…..In 2004 a national survey found that more college freshman said they wanted to be an "actor or entertainer" than wanted to be a veterinarian, a dentist, a member of the clergy, a social worker, an architect, or work in the sales department of a business
Because of this belief there is an advanced focus on appearance and materialism. However, achieving success is becoming harder and harder which leads to increase in anxiety and depression. More and more people have serious emotional problems. This is due to:
Economics: housing, education, health care and day care costs have far outstripped inflation. Most people spend over 40% of their income on housing instead of the typical 25%. The average home costs 37% of an average person's pre-tax income.
Person-to-person interactions are at an all-time low. We're malnourished from eating a junk-food diet of instant messages, email and phone calls instead of actually interacting. Relationships aren't valued as highly. Increasingly, there's a belief that there's a fine line between love – and a waste of time
Higher expectations. As Tyler Durden (Brad Pitt) says in Fight Club, "We were raised on TV to believe that we'd all be millionaires, movie gods, rock stars, but we won't. And we're starting to figure that out. And we're very, very, pissed off." All of society's entertainment pieces show role models (read: celebrities) who are much more successful than the average person. From Cribs, Super Sweet 16 to Friends, to US Weekly.
Because of the focus on the self, when people are fiercely independent and self-sufficient, disappointment looms large because there is nothing else to focus on when it occurs.
Mobility stress. College admissions and jobs. They are both increasingly more selective and it's harder and harder to standout in society as the number of people finishing both high school and college increase
After reading through the entire book, I found myself nodding my head again and again as things I see everyday start to make more and more sense. Similar to The Long Tail, Generation Me better articulates everyday patterns I've noticed and gives it some structure and theory. A good read – i recommend it.