I'm a big supporter of US soccer. We've got consistently better over the past 20 years and are only going to continue to improve.
However, the US just got crushed by the rest of the world (Ghana and Czech) at the World Cup. It was sad. The other teams looked faster, better, and more experienced. Because of this, i began to think about what would happen if the best athletes in the United States actually played soccer instead of more popular (and lucrative) sports such as basketball, football, or baseball and what our team would actually look like.
I came to the conclusion that our team would be a standard 4-4-2 formation and would consist of mostly football and basketball players. I thought about non-team sport athletes and while i respect them, i couldn't really find a spot for them on the roster. Here's what we've got (click here for a larger image):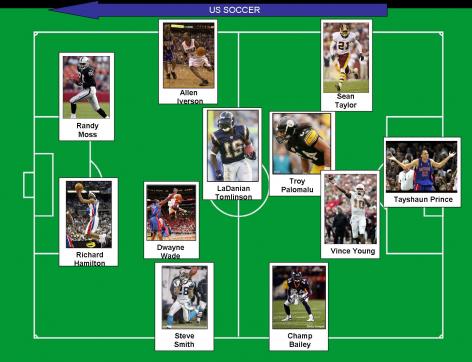 Up Front
Randy Moss (Oakland Raiders) and Richard Hamilton (Detroit Pistons). Moss would be a big target who could knock down long balls and lay it back to our incredibly quick midfield. He also would be just deadly in the air – dominating crosses. Just send it up high and let him bring it down with his chest or head. It would be great. Next to him is Richard Hamilton. Rip would also be big, but he'd rely on his great workrate to find the ball and create scoring chances. His non-stop unselfish runs to the corner and front-post would allow Moss to hang in the middle, and his back-tracking is a bonus. In addition to Rip being a workhorse, i also think he'd be a clinical finisher. Unlike Moss, he'd have a great shot from almost any distance yet be be quick enough to capitalize on mistakes in the box.
In the Middle
Our midfield is amazing. Down the flanks you have Allen Iverson (Philadelphia 76'ers) on the right and Steve Smith (Carolina Panthers) on the left. Both can run all day, and both can take people on. I can envision both absolutely abusing other defenses with their pure speed and quickness. In the middle of the field, you have Dwayne Wade (Miami Heat) and LaDanian Tomlinson (San Diego Chargers). Both have the work rate and quickness to defend any other opposing midfielders, yet the aggressiveness to tackle and attack with pace and creativity. Wade would probably go forward more, while Tomlinson tracks the ball.
In the Back
On the outsides Champ Bailey (6'0" Denver Broncos) and Sean Taylor (6'2" Washington Redskins). Champ, playing on the left is a 6-time Pro-Bowler who can cover just about anybody. Nobody would get by him. On the right is Taylor who is a combination of strength, speed, and agility that made him the best safety in the league last year. No only would he shut down opposing forwards, but he'd get forward often to support Iverson.
In the middle you have Troy Palomalu (Pittsburgh Steelers) at center back in front of Vince Young. Palomalu, as we all know, is just a beast of a defender. Could you imagine anyone taking a lot of touches in the middle of the field? Imagine him and all his hair flying at you. Vince would play behind Troy and he has the height, speed, jumping ability and athleticism to dominate any opposing forward in the air and would be a wall of a man to get around on the ground. Also, as a quarterback, his distribution around the field would be great. He could launch a ball up to a posting-up Moss who could lay it to Rip or AI or Wade for a shot on goal. Ah, it's a beautiful thing.
Keeper
At keeper, i'd like to see Tayshaun Prince (Detroit Pistons). His height, quickness, freakish long-arms, and large vertical (did i mention long arms) would allow him to take down any cross and be a great shot-blocker.
There's the team. I think we would absolutely dominate the world with this squad and with new players coming in each year (Reggie Bush), we would be a hell of an exciting team to watch.