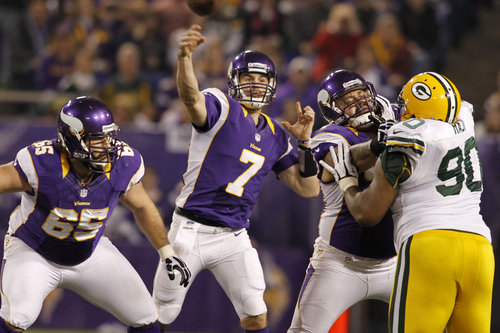 Christian Ponder was pretty awful for a two-month stretch this year, but with 4 games left, the Vikes had to run the table. At that moment, a funny thing happened. While Adrian Peterson continued going absolutely nuts against opposing defenses and Minnesota's defense continued to step up their game, Christian Ponder got better. How much better? ESPN.com blogger Kevin Seifert puts it into perspective.
But after a disastrous Week 13 performance against the Packers, Ponder quietly turned himself around and had the NFL's second-best QBR (86.8) over the final four games of the season, trailing only Peyton Manning. Over the second half of the season, Ponder's QBR on third down — measuring not only passes but also his scrambles — was the league's second best.
Yep, second best QB after Peyton Manning. I'll take that.