I like playing this game.  It's a game where you have to force yourself to choose to invest between two (arguably) overpriced companies.  I'm been doing it once a year between Foursquare and Quora.  Go ahead and make your vote there.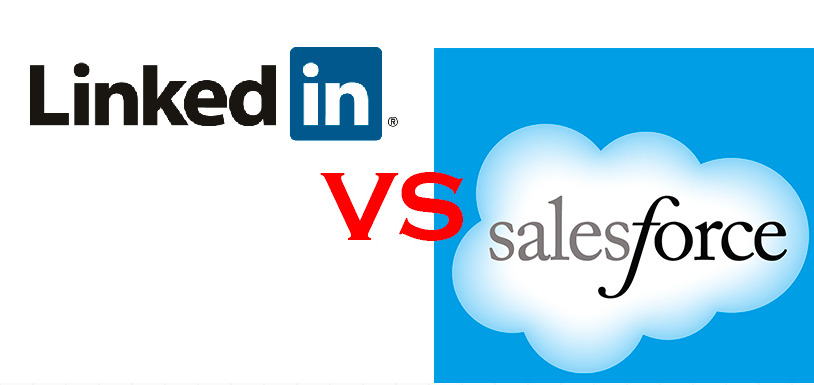 I read today in a good article about LinkedIn's business that the two companies LinkedIn and Salesforce.com have the roughly the same market cap at $30 billion (Linkedin lately has cruised past it even more to $32).  So here's the game: If you had to put 80% of your entire life savings into stock of one of these companies, which do you choose?  A breakdown:
LinkedIn:
Current market cap: $32 billion
2013 Q2 revenue: $364 million
Net income last quarter: $3.7 million
Growth rate: 12% last quarter & 60% over the last 12 months
Salesforce
Current market cap: $30 billion
2013 Q3 revenue: $957 million
Net Income in Q3: $76 million
Growth rate: 7% last quarter & 31% over the last 12 months
I think from these comparisons, you can see that SF is twice the size, but growing at half the rate. If both companies keep growing at the same rate, LinkedIn will be bigger in 5.5 years and almost double the size of Salesforce in 9 years. The market really rewards growth and doesn't seem to care about profits from newish companies.
Personally, i'm putting my money into Salesforce, but it's interesting to see how much the market loves LinkedIn.  In my daily work life, i use both. We have all our sales information in Salesforce and can't operate without it.  All of tools plug into it (Eloqua, Totango, Desk.com, etc.).  At the same time we're hiring and not a day goes by where i'm not looking at someone at LinkedIn or trying to contact them through that platform.  It's proven to be invaluable when hiring.  I can see it breaking into new businesses and growing fast.
That said, i can't see Salesforce being replaced any time soon – and the pricing is much better.  We pay less than $1000 a year for LinkedIn (for the ability to message people) but well over $30k a year for Salesforce.
Who would you bet on?
[poll id="4″]