I'm here in Paris for a work event with about 600 other co-workers. Last night we all had the night off and me and 2 colleagues decided to go see the France vs. Germany soccer match.  We bought some tickets online and thought we were in for a super fun night.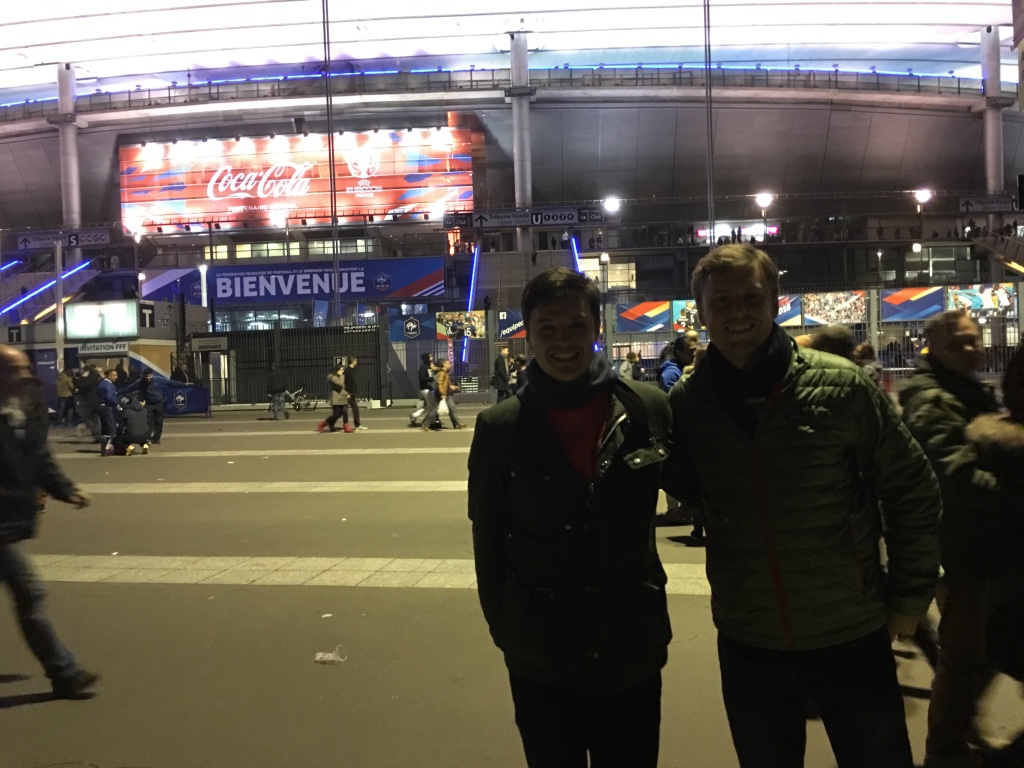 Little did we know what would happen. In the morning, this would be the headlines from the papers: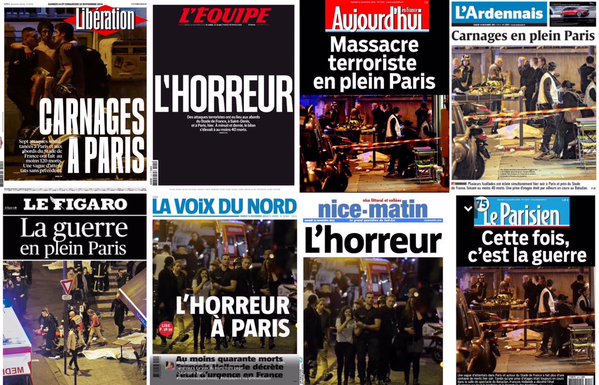 The match started and our seats were fantastic. We were right on the left sideline with a great view of Martial. He was incredible and scored a great goal.
About 10 minutes before half, at 9:15pm, everyone in the stadium heard a massive BOOM. It was loud and I immediately said to Jon, "that sounds like a bomb."  Even the players noticed.  However, everyone went back to watching the game and the players kept playing.  Here's how it sounded:
About 5 minutes later, right before half, another BOOM. It was loud. Having never been to a soccer match in the French stadium, i thought that maybe it was something that happens regularly.  Nobody seemed to be miffed about it, so i thought it was just part of the scene.
At halftime, i was standing in line for the restroom with Jon. We saw all the security guards start to close all the gates to the stadium, locking us in. We thought that was pretty strange. We told our other friend Marc, who has lived in France before, about it. He said that it was typical so they can route everyone out a central exit when the game is over. Seemed like a logical answer. We went on watching the game. You can see from this picture that we weren't yet aware of what was happening: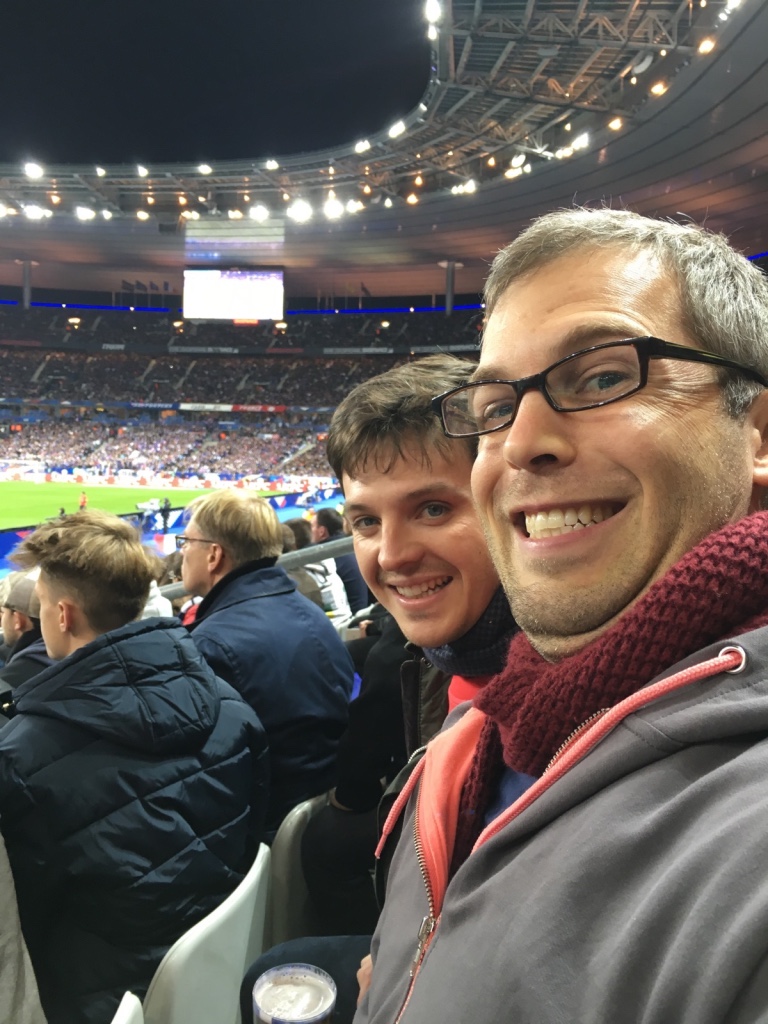 I really started to think things weren't right when i noticed there were about 10x more security standing between the crowd and the field. At this point you would think we would be freaking out, but we weren't. We asked the people behind us if they knew anything. Nothing. Nobody knew a thing and the game continued. Nobody knew that the two blasts were bombs exploding outside the stadium at a fast food restaurant and a brasserie.  Nobody knew that the French President who was at the game was secretly evacuated.
About 15 minutes into halftime, at 9:40, there was another BOOM.  Again nobody paid it any attention and continued to watch the game. When the game finished, we were walking out of the stadium when there was a general announcement that there was an incident outside one part of the stadium.  There was a collective "hmm, that's interesting," and they continued to the exits. It was calm but you could lots of sirens going on outside the stadium.
As we were exiting, you could see hundreds of police and hear lots of sirens.  Then, the stadium something happened. I'm not exactly sure what it was but the people at the front of the crowd turned around scared shitless and started running as fast as they could back into the stadium. Everyone else started doing that too. It turned into a stampede. Older people and kids fell to the ground and were getting trampled.  We ran too.  After getting away (about 400 yards) from the area that people were running from jon and I reconnected with Marc and walked the opposite direction. At this point, kids were bawling and sirens were blasting. It was clear that the world was not right. We were very scared, but still in the dark about what was happening.
We finally got out of the stadium and called an Uber.  Miraculously one got to us and we told him to take us home as fast as possible. We got a call from another colleague was at a hotel.  He was walking to dinner when he came across a man in the middle of the street waving a gun. He then saw someone who was shot pouring blood. He ran to a restaurant to get cover, but they weren't letting people in so he kept running. Eventually he got inside and called us.  Our Uber arrived about 15 minutes later to grab him and we all continued back to our listing.
My night wasn't nearly as scary as his or some of my other colleagues but it was still unnerving. Not knowing whats happening and seeing fear on the faces of everyone in the crowd is terrifying.
When we got back to our apartment, we got online and devoured the news for hours.  It was then that we learned the facts of the night. The scariest event being the massacre at the Bataclan music club.
At that club, a few gunmen entered with AK rifles and opened fire on the 1500 people.  Most people ran to the exits. Many fell to the ground and tried to cover themselves.  The gunmen continued to fire for 10-15 minutes on the people who were laying on the ground. They reloaded 4 times. Here's a quote from one survivor,
Ten minutes … 10 horrific minutes where everybody was on the floor covering their head. We heard so many gunshots and the terrorists were very calm, very determined. They reloaded three or four times their weapons. They didn't shout anything. They didn't say anything. They were unmasked and wearing black clothes and they were shooting at people on the floor, executing them.
What we know now, the next day, is that there were killings in 7 different locations and about 160 people are confirmed dead. It's still unclear how many are injured. We also learned that the stadium bombs were supposed to go off later, when we were exiting the stadium and not during the match.
We found out today that there were 3 terrorist outside the stadium.  The first tried to get into the stadium and when security discovered the bomb on his chest, he backed away and detonated. Then the 2nd one went off 5 minutes later.  The police then found the 3rd person and as they pursued him, he donated himself.   This is why the police at the stadium wanted us to stay in the arena. I'm so thankful that their plan failed.
My company picked Paris in November as the time and location for our big annual conference to send 600 employees. We also choose Friday night as the night to spend out exploring the city. Almost everyone spent the night in and around the areas of the shootings. Talk about bad timing. While many of them were next to the events, luckily nobody was harmed.
I feel extremely lucky and now all my thoughts are around getting home and getting back to my family.