I would like to call to attention a post written today about my new favorite player in the NBA.  Let me ask you this question:
if you take:
Every rookie who has ever played in the NBA since 1946 …
Weed out everyone who played less than twenty minutes per game …
And sort them by who gets the highest percentage of total rebounds while on the court …
Which rookies over the past 100 years do you think would be in that list?  I'll give you a hint: 2 of the top 10 are rookies this year.  At number 9 you have Greg Oden. He's ahead of Hakeem Olajuwon and David Robinson. Not bad. Not bad at all.
Another 2008-2009 rookie, however, is currently third all time. He's ahead of Shaquille O'Neal, Charles Oakley, Buck Williams, and Bill Walton (trailing only Clifford Ray and Larry Smith, who were three years older in their rookie years than the guy I'm talking about).  It's, of course, Kevin Love.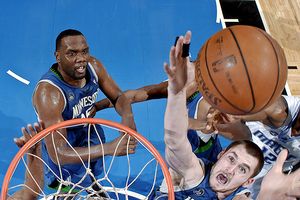 It's strange considering:
Kevin Love's total rebounding percentage is greater than his age, which just about never happens. He's only 20, but he grabs 21.3 percent of the rebounds while he's on the court.  He's also smaller and less athletic than a lot of the players he's competing against for those loose balls. And he's best known as a passer
Whatever it is, it's amazing to see Love haul in offensive board after offensive board.  Even more amazing to think that he's only 20.   The article is good as it describes his mentality when playing.  Check it out and Go Kevin Love and Go T-Wolves!