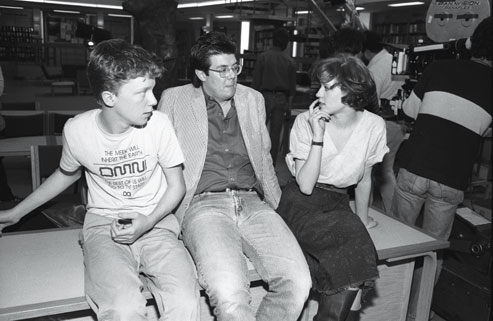 John Hughes wrote and directed some of my favorite childhood movies.  Movies like Ferris Bueller's Day Off, Planes, Trains and Automobiles, The Breakfast Club, Pretty In Pink, Uncle Buck and more.  I was pretty sad to hear about his death last year.   There is a good article in Vanity Fair this month with quotes from actors from his movies including Matthew Broderick, Anthony Michael Hall, and Molly Ringwald.  Some good excerpts:
Ringwald: I remember the first thing that I saw of him—I didn't know what he looked like; I didn't know anything—were his tennis shoes. He was really into sneakers. It was not what I really thought of as a film director. His hair was spiky. He looked kind of relatable to me.

Hall: The word "dweebie"? Gotta credit Judd Nelson for that. I was on the Breakfast Clubset when he ad-libbed that. I think Judd's responsible for that being part of our vernacular: him yelling, "You're a neo-maxi-zoom-dweebie!" I remember John laughing.

Broderick: It was extremely pleasing to make John laugh. He had a quiet, very real, uncontrollable laugh: an eyes-closed, head-half-down, bent-over-quiet thing.

Hall: There's a scene in The Breakfast Club between the principal and the janitor, Paul Gleason and John Kapelos, where one asks, "Who'd you want to be when you grow up?" and the other says, "John Lennon." I think that was really John to some extent. He was such a Beatles fan.

Hall: When I was doing Weird Science, I got a call from my agent on a Wednesday, saying, "Stanley Kubrick is interested in you for a role in his Vietnam drama that he's doing, Full Metal Jacket." Got a call back on a Friday saying, "Well, now he wants you for the lead, as Private Joker. He's gonna call you tomorrow."  All I can compare this to is waiting for Oz to call. The stories preceded him: his privacy, living in London, sort of extricating himself from Hollywood, all that shit. I was shaking in my boots. The phone rings. Stanley Kubrick gets on and says, "I want you to know: I just screened Sixteen Candles three times … and you're my favorite actor since I saw Jack in Easy Rider!" I'm like, "Whaaa? Am I fucking hearing this?"

The long and short of it was, it was such a drawn-out, wild process of negotiating with Kubrick, via his attorneys, that it had a real effect on my family. [Hall ultimately withdrew from the negotiations.] But my point in telling this story is, had I not had this collaboration with this great guy, I never would have gotten that call from Kubrick. I received the greatest compliment of my life, and I owe that to John Hughes.