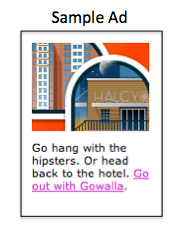 There's an intersting advertising network that i learned about at SXSW this week called The Deck. They do one thing differently and it substantially impacts everything else: they get rid of the CPM. Selling ads by the 1000 holdover from the days of print media and TV where companies wanted to align ads to circulation and ratings. Deck does things differenly.
If you look at the three constituents of ad sales: publishers (the web site), readers, and the advertisers. The CPM is beneficial only to the advertiser. With CPM, publishers optimize their site for page views. This results in chopping stories into 3 pages, making photo galleries, lack of ajax, or other gimicks that result in more page views at the expense of user enjoyment. Typically when sites begin to focus on monetizing, they get worse for the reader, not better.
The Deck is an ad network. They represent both publishers (Twitteriffic, Daring Fireball, etc.) and advertisers (Rackspace, Gowalla, KickApps, etc.). They subjectively vet both of them.  The also have the following rules:
They will only represent websites of a certain type. In this case it's sites focused on design or technology
They will only place ads of products they like or endorse
They then will place only one ad per page of one size and of one format. They charge the advertiser a monthly rate and sign yearly contracts wht the publishers.
Their ads have up to 80 characters and one image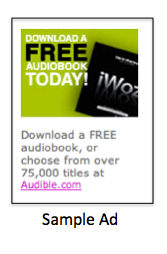 Does it work? Definitely. They are way oversubscribed for both advertisers and publishers. Even though advertisers get less impressions, they are more effective. Thus, 7 out of 10 advertisers return month after month. Publishers have more attractive, less cluttered sites and no longer have to worry about chasing pages. Sure they want an audience and the bigger the better but whether it's 3 page views per user or 10, it doesn't matter
The author of Daring Fireball has a story of when he was using Google Ads instead of Deck. For a while his most successful, in revenue terms, article was one where he compared a certain design to a man's toupee. What he found was all the Google Ads next to his article had to do with men's hairpieces.  He also found that men's hairpiece keywords are very highly priced and he earned 7x the amount of money on that page than other pages. This was troubling for him because he then started thinking about what words are valuable to Google when writing articles rather than what he readers want. His revenue (and interests) were properly aligned with advertisers nor readers.
Deck is an interesting example of someone innovating around ad networks. I find it fascinating as i really don't like the CPM either. But, does it scale to other, non design/technology sectors? Maybe. I think it requires the readers to be intelligent and (somewhat)affluent. So i could see Travel or Cars having a similar ad network. But it gets harder after that.