Well done twinkies!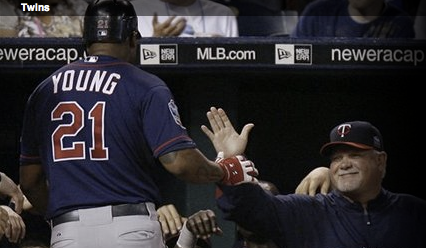 The Twins dominated the Central Division in the first decade of the new century, winning or trying for the win in the division in seven of those ten years ('02, '03, '04, '06, '08, '09, and '10).
What gets me is that every year the critics pick the Twins to lose. Every year. Each spring i pick up Sports Illustrated to read about how the Twins don't have the hitting or pitching to take the division and almost every year we prove them wrong.
This year we lost former AL MVP Justin Morneau for the entire season in June and still managed the best record in baseball for the second half of the year. It's our adherence to fundamentals, an amazing farm system and good solid baseball that allows us to plug the gaps and pump out win after win after win.
Check out some of these quotes:
In 2006, the Twins won the division but were picked by most to finish 4th in our division. One quote:
Boy, I bet the Twins are wishing they hadn't cut David Ortiz right about now. This team has almost as little pop as the Dodgers, if that's at all possible. Shannon Stewart was a third-round pick in CBS Sportsline's Bizarro draft. Tony Batista – did he even play last year? (Yes, in Japan – Ed.) – was a second round pick. Luis Castillo was a fifth-round pick. Kyle Lohse was an eighth-round pick. You get the idea. These guys are stiffs, which is a shame, because they have some nasty pitching.
In 2008, they were picked to finish last in their division. Instead they tied for first. NY Sports Day said,
"the loss of Hunter in the outfield seals the Twins' last-place finish. "
and also in 2008, another quote:
Minnesota has a decent young core of players, led by Joe Mauer, Justin Morneau, Delmon Young and Michael Cuddyer. But it's quite likely that the Twins will take a big step backward in 2008
In 2009 they won the division again and one preview said,
I honestly do not believe that Minnesota has enough offensively to compete for a division crown this season. It's never good when there is prolonged talk about your leading hitter and starting catcher having potentially severe back problems in his early twenties.
All those being said, congratulations to the team. Once again they delivered and let's hope they put the smack down on the Yankees this year in the playoffs.