Granted i was only in Austin for 2 days of the South by Soutwest festival, but here's my take on it.
SXSW has now become a Spring Break for nerds. Similar to if you went to Daytona Beach for a real spring break and how you'd get sick of tequila and dance music, people at SXSW get overdosed of Apps, Twitter and the words "social" and "media". With so many people shouting in your face, it had to tell what anyone is saying.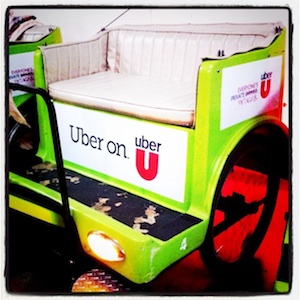 That said, here are some highlights:
The group messaging apps were out in full effect.  GroupMe, Beluga and others were there.  These are fun apps.  My favorite is GroupMe and if you haven't tried it – i recommend you do.  It's a good way to keep in touch with people.   Here's a good roundup of all the group messaging apps.
Uber Cabs were everywhere.  They were the big winners of the show.  It was impossible to attend this year's event and not hear of Uber.    Fantastic marketing job done by them.
The gaming Keynote by Scavengr CEO was the talk of the weekend.  it's nice to see a talk that's well put-together and stimulating.  Gaming is in lots of apps, and with good reason.  If you can find the video of this, you should watch it (and tell me where it is so i can see it too).