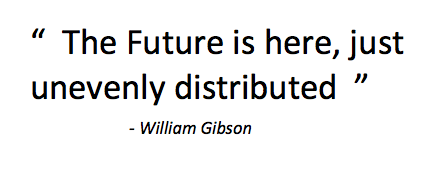 With a new year (i know we're a month old already) I've been wondering more about what the future holds. I have a few thoughts i'd like to share and get your thoughts. They are some prediction of the technology space. Here they go:

More and More Social Networks.
I wrote in 2007 when Facebook released "The Platform" that they would take over the web. Their product updates since then have great and as a result, they've been killing it for years and been gobbling up users (approaching 1 Billion now). However, this year I saw more and more social networks emerge. You have Path, Instagram, Foursquare, FoodSpotting and others. It's easy for me to see now that in the future everyone will be on Facebook but that's not where everyone will share. It will be fragmented. Depending on what you share (Food, Books, Photos, etc.), you may be someplace else and sharing with a smaller group. Facebook will continue to be a huge company but their days of being the only game in town are numbered. Social is now not a facebook-only feature. Everyone has it. The future is more about what your social activity revolves around. I've started to tell people that "facebook is a fad" and it's old news. That's not entirely true but it's more true now than ever.
The Future of Local Publishing
More and more people are trying to get into local publishing. The local newspaper has seen its classifieds, sports, world news and national news all get marginalized by other outlets (TV, internet, twitter, etc.). All that's left is local. I used to be bullish on Patch, but that's waning as i don't see them innovating and it seems to be too big and too expensive an operation at each location. That may change though. With that said, here's my prediction for what wins in a local community:
You have a site, this could be a WordPress site or Tumblr or whatever. It's managed by one to three super-engaged people who are not pulling a salary (or a minimal one). They do two things. First, they curate all the news from papers, blogs and other local sites that are reporting in their community. Second, they accept via twitter and their site submissions of links and news. They curate both of them and then spit it out back to their followers on their site and on Facebook and Twitter. This becomes the best real-time source of news.
This works because it is impossible for one source to aggregate all the information themselves (what newspapers used to do) but it is all being covered by other people who are willing to share. The new local publisher is a connector of local interests to other web sites. I could see this being just a twitter feed or a Tumblr blog. Whatever the destination is, it's heavily conversational and constantly curated.
Just some predictions i have. Would love to hear your thoughts.