I got to quite a bit of live music shows.  I try to see my favorite acts whenever they roll through Colorado.  I just went to Coachella and in the past year i've seen Mumford, The National, Wilco, Andrew Bird, Shins, Radiohead, Childish Gambino, Band of Horses and others.  I like these shows but they are also frustrating.  I increasingly find that rock bands do nothing more than just play the songs from their album, in a way that sounds just like the tracks on the album and i leave the venue wonder why I went.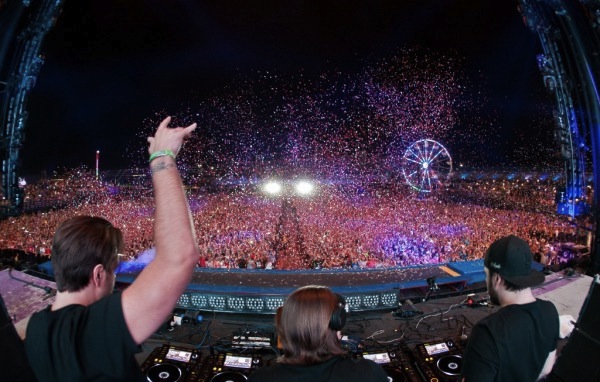 I began to think back to why people used to go to shows.  In the past, i could imagine that music represented more than it does today. It represented a movement. The Rolling Stones and Elvis were a powerhouse that were more than just great songs.  Or, i could see how an artist's lyrics (such as Bob Dylan's) were so meaningful that their concert was more akin to a speech or a rally.   None of these are happening in indie rock today.
However, i do see this stuff happening with the electronic music scene.  Two things are different. First, now that music is digital, the instruments of today are the computer and that's resulting in brand new music that is truly different than anything that's come previously.  Second, the concerts where this is played are extremely social.  The DJ's aren't just playing music for an audience, the audience is involved. Very involved.  As my friend JT said this weekend after hearing Swedish House Mafia, "it feels like the DJ's are conductors."
Also, these electronic artists don't need major labels.  They are proficient in interacting and promoting online.  If fact, most of them don't even release albums in the traditional sense.
It feels to me that this electronic music scene is the future. Bob Lefsetz agrees with me.  I just hope i'm not too much of a dinosaur to enjoy it.