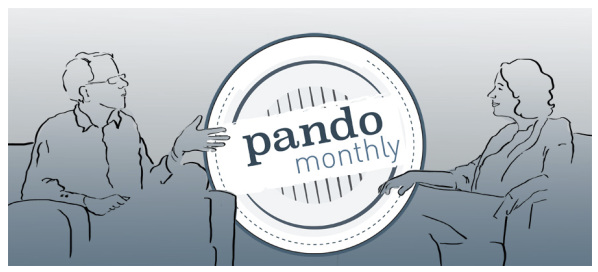 One of my new favorite things to do is watch the PandoMonthly videos. They are really long – usually over 90 minutes – but it is a super in-depth interview with one of the internet's big dogs. My favorite one so far is a 2-hour video with John Doerr who worked early on at Intel and sits on the board of Google and Amazon.
Last night i watched Fred Wilson's interview. Some highlights:
He talked about how it was a huge loss for Twitter to not buy Instagram. He thought that with the trifecta of tweets, images and video, Twitter could challenge and possibly unseat Facebook. But Twitter didn't have the assets that FB had of pre-IPO shares or valuation to be able to offer them the amount they needed, thus they lost the sale. He remarked on how it was just genius for Zuckerberg to recognize that possibility.
He talked about CEO's of his portfolios such as the Twitter trifecta, Etsy and Tumblr. How Twitter is like the Beatles in that it had multiple creators who were all vital at different stages: Jack at stage 1 in building the product, Ev at stage 2 in building the company and Dick at stage 3 in building the business. He also points to this terrific post about how Tumblr is all about David Karp and is really a one-person product.
On that he told a story about how at Etsy, they were promoting the #2 guy to the CEO position and he went to the board and said, "hey, you're promoting the wrong guy. That guy down the hall is beloved by the company, runs the biggest business unit and bleeds Etsy. You should promote him." Pretty cool story of something putting the company's interest above theirs.
Hating Saas: he talked about why he hates investing in Saas companies (1:18 mark) because they get commoditized too easily.
About bitcoin: he talked about how it is the closest thing he's seen to a replacement for cash money and that's why he's investing. He's also investing there because he's burnt out on social.
About SnapChat: It's not a replacement of instagram, but rather the text message (or WhatApp). It's not a photo service but rather a messaging service. (see my thoughts on Snapchat here)
About blogging every day: He hates how media distorts his message so he's taken it on himself to create his own media so he can control it.
All in all, some good stuff. The full video is here: