This past Monday Hupspot released their official S-1 which is the information released for a company when they are about to IPO.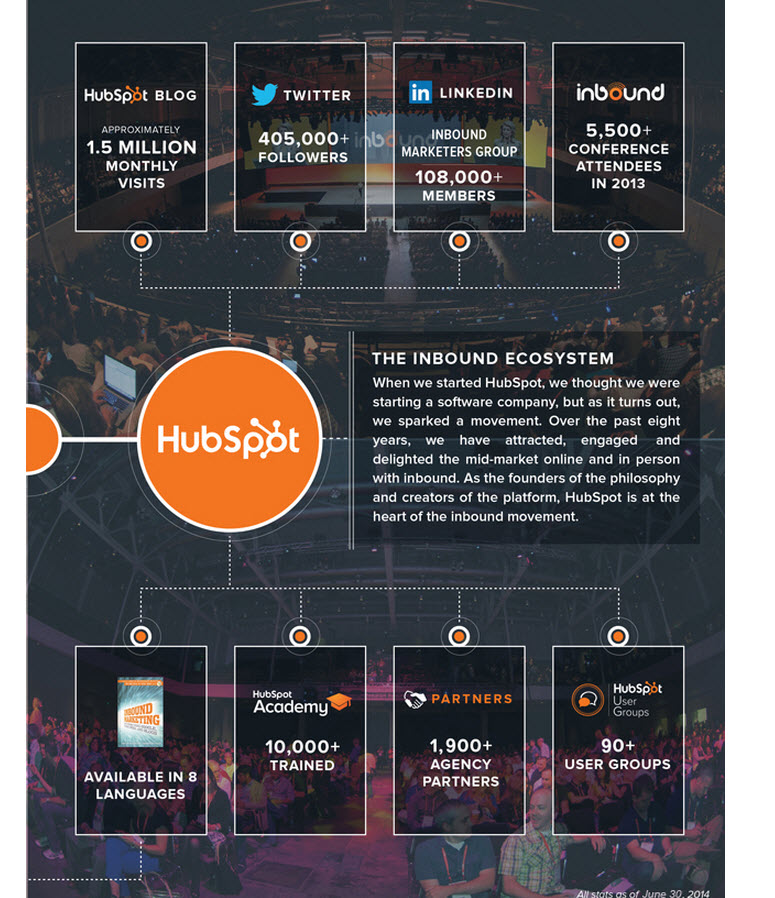 I've read a lot about this information and wanted to jot down some of the more interesting pieces:
Founded in June 2006 in Cambridge MA, they coined the term "inbound marketing." They did more than coin it, they lived. They wrote the books, built an influential blog and practiced what they preach. Nowadays you hear "inbound marketing" all the time. Here's to them for coining a term that an entire industry adopts. (ChiefMartec talks about this more here)
In their S-1, they list as one major risk factor as is the inability of customers to create content to make blogging, social media, and inbound marketing in general worthwhile. This is true for our customers as well. If nobody is creating content, then many of your marketing efforts fail (email marketing, social, inbound, etc.)
The letter from the founders about their beginnings is pretty cool. It talks about how their strategy coalesced around:
We started HubSpot with one simple goal: make it easier to get going with inbound, so businesses could get growing. One platform to learn. One password to remember. One bill to pay. And, one phone number to call. One integrated system, designed from the ground up to transform how organizations market and sell.
The letter also talks about their culture as being vital to attracting great employees. We are seeing that at Kapost as well. They put it well, saying,
To achieve our vision of transforming how organizations market and sell, we had to attract and retain the best people in the world. HubSpot's culture is predicated on radical transparency, individual autonomy and enlightened empathy. We codified and publicly shared our approach to this different kind of workplace in HubSpot's Culture Code slide deck. It has been viewed over a million times, shared on social media thousands of times, and received remarkable acclaim.

Our culture is a powerful weapon in the battle for amazing people.
Some stats (summarized by David Cummings here):

11,624 customers and 1,900 marketing agency partners (pg. 1)
Focused on the mid-market (pg. 1 — this is a change from a few years ago when they were small business focused)
Revenue:

2011 – $28.6 million (304 employees)
2012 – $51.6 million
2013 – $77.6 million
2014 1H – $51.3 million (719 employees)

Losses:

2011 – $24.4 million
2012 – $18.8 million
2013 – $34.3 million
2014 1H – $17.7 million

Mid-market defined as companies between 10 and 2,000 employees. We count enterprise as above 1000 customers so this seems like a broad definition of the mid-market.
Average revenue per customer is $8,823 per year
88.6% annualized subscription dollar retention rate
$11,334 cost of customer acquisition

They made a switch from just social and SEO to do marketing automation. I think this helped them move up market and charge more.
Chris Dixon has an interesting point that the cost of sales teams still seem stuck at traditional levels:
One thing you learn from enterprise S-1s is that while other costs have dropped dramatically the cost of enterprise sales teams has not.

— Chris Dixon (@cdixon) August 26, 2014
Marketing technology is a crowded space. It's not often that a company achieves enough scale to IPO, so congrats to that team. I met one of the founders a few years ago at Techstar's FounderCon and we had their CMO Mike Volpi to our event last year and both of them were incredible nice and helpful.
Overall, I expect this IPO to work out well. They have a great team and the market is only growing. They used to have a big retention problem, but they seemed to have that under control now and they are moving up-market and capturing more and more money. I think they'll do great.