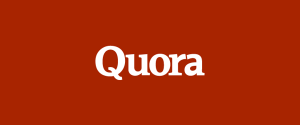 I've seen it before.  It happened with Twitter and with MySpace.  Sometimes there's a confluence of media attention and star power that makes a website just explode – and that is about to happen to Quora.
If you haven't heard of this website, enjoy this moment in time. It's probably the last moment you won't hear or read someone talk about this great new Q&A site that's emerged.   By the end of 2011, Quora will be seen as one of the breakout hits.
Now, i have nothing against the site. In fact, i think it's a great service that's been implemented wonderfully.  It has great UX and frontend design.  It's truly collaborative.  Mix that in with some great content and great users and you've got a good little site.
I also do think that it represents a step forward towards how content will appear on the web.   Wikipedia is great but it is hard for regular people to edit can contribute.  The Quora site is easy to use and amassing some great content.   The web is built for interactivitity and Quora is one of the most interactive content sites around.  This is its niche.
I like it.  I'm just preparing for the onslaught of media attention that's about to happen over the next 12 months.