Happy Easter Everyone
He is risen.

Please stay six feet away.

— God (@TheTweetOfGod) April 12, 2020
As we're all still at home, not everyone can get out and celebrate in the typical way. I thought I'd post how it's going with others around out there:
A chocolate factory in France:
The Pope is breaking with tradition and going online, so hopefully all of you will too
LOOK: Pope Francis leads the Easter Sunday vigil Mass at the St. Peter's Basilica in Vatican with no public participation due to the outbreak of #COVID19. Remo Casilli, Reuters #SemanaSanta2020 pic.twitter.com/ayh4PC2Oak

— ABS-CBN News (@ABSCBNNews) April 12, 2020
These deacons hold Easter service in front of portraits of believers who could not attend mass: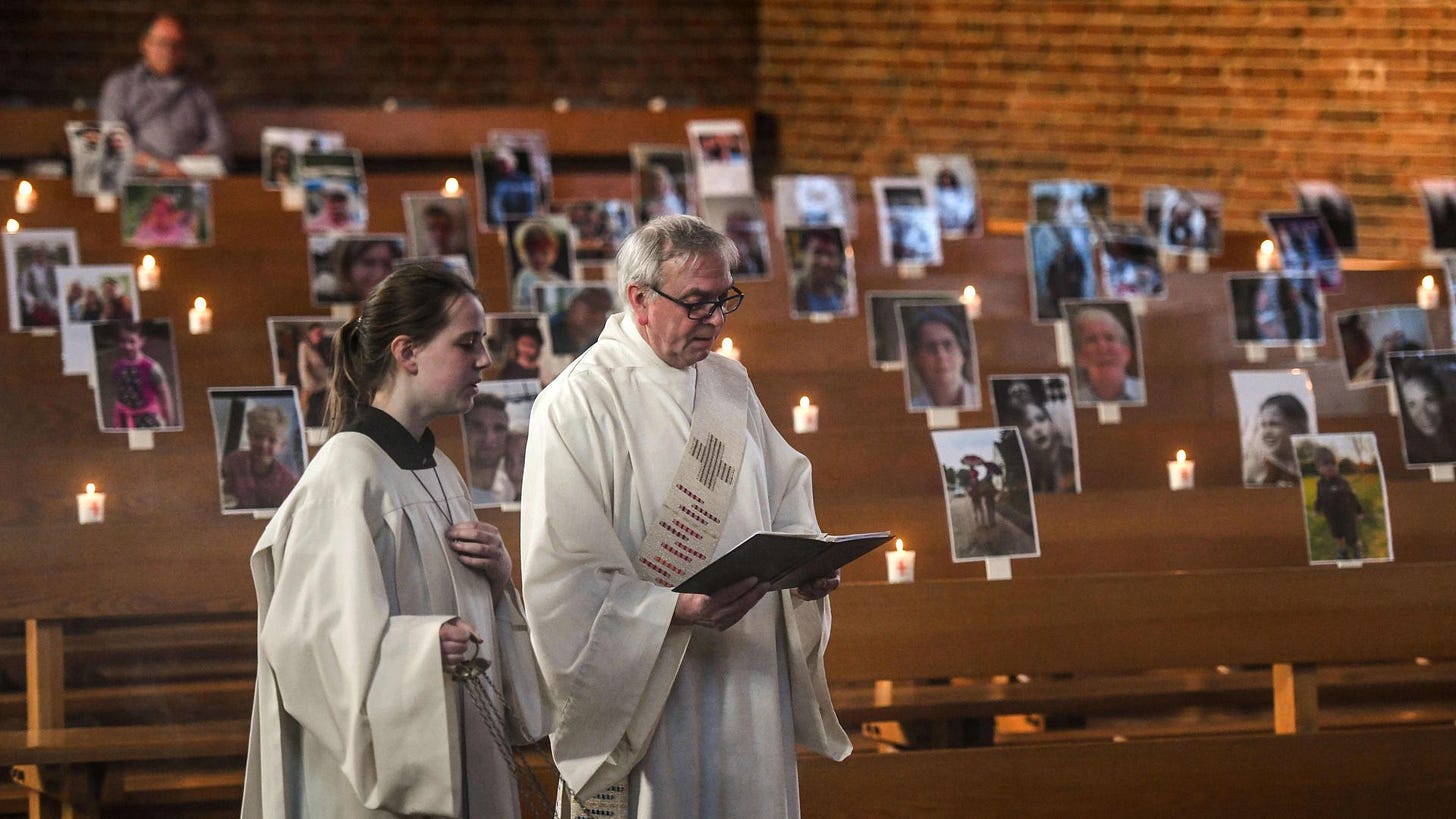 This Rabbi in Connecticut hosts a virtual Seder on Zoom:
For 50 years, Volker Kraft from Saalfeld Germany decorated his tree with 10,000 hand-painted Easter eggs (Michael Reichel/EPA) https://t.co/D8NOvZ9OHo pic.twitter.com/lmKiz3uRok

— Meredith Frost (@MeredithFrost) April 12, 2020
At My House
My kids:
Meanwhile, i've been thinking WAY too much about Trolls 2: World Tour. Some thoughts:
Country Music Land could have been way cooler. Have one area that's sad and drunk, another that's party (Devil Goes Down to Georgia), another that's all chicks (Dixie, Taylor Swift, Dolly Part), one that's just Garth, and another that's all 'Merica with beers and trucks. That's an awesome land and a place I could hang for a long time.
Other Stuff
BREAKING NEWS: I have been feeling unwell the last two days – tired, headache, foggy brain. I have been concerned about COVID infection, but it was hard to imagine how: we have been so careful.

I just discovered 5 minutes ago that I HAVE BEEN MAKING DECAF COFFEE FOR 2 DAYS.

— Claire Potter (@TenuredRadical) April 11, 2020
A sign of the times. Taxi's vs. Delivery
Uber Eats just surpassed Uber, for the first time pic.twitter.com/gmrTOzPVac

— Teddy Citrin (@tcitrin) April 11, 2020
Not all fashion shows have been cancelled. pic.twitter.com/gaaCjn5e7e

— Back To Nature (@backt0nature) April 11, 2020
Cases
(
spreadsheet data
)
Only 64 more days to go