Archive for the 'List' Category
I was just reading these two blog (here and here) posts about where people have been this year. I thougtht i'd take a moment at look at my travels in '07. Here's what i did (below). Not too shabby. I hope to put some new cities on the list in '08.
Minneapolis, MN
Chicago, IL
Key Largo, FL
Boston, MA
Washington, DC
Philadelphia, PA
Pocono Lake, PA
Westerly, RI
New York, NY
San Francisco, CA
Los Angeles, CA
Denver, CO
Las Vegas, NV
International Cities:
Bucharest, Romania
Targu Mures, Romania
Budapest, Hungary
Vienna, Austria
Athens, Greece
Tréguier, France
Mykonos, Greece
Here's a list of my favorites for 2007. I originally wanted to list 10, but then i realized that i hadn't really listened to 10 albums. I've listened to lots of tracks, but not really 10 full albums. So here are the top albums of 2007 for me.
Honorable mentions
Easy Tiger by Ryan Adams
Icky Thump by White Stripes
American Gangster by Jay-Z
Magic by Bruce Springsteen
Endless Highway Tribute to The Band by Various Artists
The Stage Names by Okkervil River
#5: Favourite Worst Nightmare by Arctic Monkeys
The album jams. That's all i can really say. These guys have good lyrics and they hit hard. You have to be in the mood for the Monkeys but if you are, it's pretty damn satisfying. As people say, "Arctic Monkeys play a less hooky brand of brat-punk than a lot of their peers and predecessors, but their off-kilter song structures—and Alex Turner's witty, effusive descriptions of youth culture—make them every bit as unique and vital as their supporters claim." While the albums is pretty much the same stuff as their first album, it's still good. I also saw them live this year which increased my enjoyment as i was able to fully appreciate their skills
#4: Because of the Times by Kings of Leon
KOL are weird and strange and shrieking but they really deliver. The two songs "Ragoo" and "Fans" are truly great songs. The rest of the tracks grew on me over time, especially after i saw them live. They have a great sound and they are one of the last true rock bands. Most of the artists today are emo, electronic, pop, or some mix of all 3. These guys are just old school rock.
#3: Oracular Spectacular by MGMT
I was introduced to this by Tiger in December and the first time i heard it, i was hooked. The first track "Time To Pretend" is fantastic. They are rock mixed with electronic so you can jam and dance at the same time. A very, very enjoyable album
#2: The Stage Names by Okkervil River
This album is amazing.  It has depth in a way most others don't.  It also rocks in a traditional rock 'n roll way of rocking.  Let's just say there's only one CD i bought for someone as a present this Christmas and it was this one.  I like this review:
Usually, we go through life in a hazy bliss, emotionally and spiritually dead to what is going on around us. Sometimes, it takes something glorious to snap us out of this haze. Sometimes, it comes in the form of a new album from a band that is by leaps and bounds becoming one of the best currently making music. Am I speaking nonsense? Maybe, but then again you wouldn't think so after you heard Okkervil River's The Stage Names. Yes, this is an "indie" rock album but the layers and substance that fill and encompass it are utterly unmatched. In many ways, this album is the kind of musical collection that could alter your discernment and overall attitude on life.
While that's going a bit far, it's still a great album.  Check it out.
#1: In Rainbows by Radiohead
I was never a huge Radiohead fan but i really love The Bends. I was skeptical when the new album came out. That said, this was the one album of the year that i kept playing because it was so easy to listen to. This is what i just read in the AV section The Onion and i agree completely so i'm just going to repost it: "First, Radiohead announced the completion of a new album that few people even knew was in the works; then, the band said the record would be for sale in a week. And the price of this unexpected bounty? Whatever people wanted to pay, be it £100 or sweet fuck-all. After all that brilliant hype-stoking, the biggest surprise was that In Rainbows wasn't some collection of afterthoughts or off-putting avant-garde exercises, but an honest-to-goodness Radiohead album—and an excellent one at that. Matching the glitchy sound of Kid A and Amnesiac to the fully developed rock songwriting of Pablo Honey and The Bends, Radiohead delivered its best album since OK Computer, renewing its heartfelt exploration of how the organic and the electronic can exist in creaky harmony." You can download the entire album here.
Saw a good post over the weekend about the top 10 US players. It was on this blog. I've reposted them below
10. Frank Simek, Sheffield Wednesday — Surprise right off the bat, right? Despite a mug that would place him front and center as a villain in an 80s high school movie, the former Arsenal trainee has been a model pro for the Owls. He's coming off years of 45 and 44 appearances in the rough-and-tumble England League Championship, which says a lot.

9. Carlos Bocanegra, Fulham — A first choice start at Craven Cottage and now wearing the captain's armband. Can craftily get forward and contribute to the attack on set plays, yet far too often exposed defensively. Still, come a long way since moving to England in 2004 and has now racked up over 100 appearances.

8. Taylor Twellman, NE Revolution — Take away his miserable showing in the US shirt, the "face" from New England is as steady a goalscorer as you'll find in MLS. Factor in that the Revs are continually among the top teams in the league and his 92 goals in 169 appearances and it's impossible to deny him. (Perhaps he can even help the Revs win their first trophy — ever — in tonight's US Open Cup final.)


7. Michael Bradley, SC Heerenveen — From fringe, glorified practice player with the MetroStars to starter in the Dutch Eredivisie all inside of four seasons. Not bad for a guy that just turned 20.

6. Landon Donovan, LA Galaxy — Obviously a lightning rod for any American soccer fan, yet it's hard to dispute that he's been the best player in MLS this century. Probably should dock 'professionalism points' for quitting Bayer Leverkausen, but that's frankly become a moot point in my book. It was around three years ago, everyone should be able to move on by now.

5. Steve Cherundolo, Hannover 96 — In a lot of ways, the anti-Donovan. He went to Germany in 1999 and instead of sulking, pining for the beach and locking himself in his room to play video games. Instead 'Dolo took it upon himself to integrate into Der Motherland and learn the culture and language. (Granted he was 20 and had spend two years in college, while Donovan was 17.) 225 Bundesliga appearances and counting, plus the vice-captaincy and Cherundolo is in a lot of ways the model American ex-pat soccer pro.
4. Clint Dempsey, Fulham — Small body of work, but the Deuce has already made quite and impact at Craven Cottage. His goal last year v. Liverpool likely kept Fulham in the top division and so far this year he had a streak of three straight games with a goal. The biggest knock on the man from Nogadoches, Texas is he can absolutely drift and disappear from games. If I did this list in Sept. 2008, he's the odds-on favorite for the No. 1 slot.
3. Brad Friedel, Blackburn Rovers — Without question the best American export of all time. Despite just 25 sporadic games, he's the only first American to play for one Europe's 'glamor' clubs in Liverpool (1997-2000). Since his move to Blackburn he's probably been aside from perhaps Steven Gerrard and maybe Paul Scholes, the most important player to his club. Friedel has started nearly every game for the club and his command of the area got them through some dodgy times. It's just a shame he retired from International play after the 2002 World Cup. It's also a shame he speaks with a fake English accent. Then again, no one is perfect.


2. DaMarcus Beasley, Glasgow Rangers — Let's throw out the lost season at Manchester City. Beasley, first at PSV and now at Rangers, is the best American in the UEFA Champions League — by a mile. He's already scored six goals in the competition, which just might be six more than the rest of our country combined. He's also the only American to reach the competition's semifinals. When his head's screwed on straight, the Beaz is probably the most technically sound Yank around. Again, the only knock is he moved to Rangers, but they are a moderately large club and are continually in the Champions League. (Commentor Fan's Attic points out Jovan Kirovski scored for Borussia Dortmund in the mid 90s in the Champions League, though it's unclear if he played enough games to garner a winner's medal.)


1. Tim Howard, Everton — Voted by the PFA into the 2004 Best XI of the Premier League as a keeper, probably the highest non-MLS award ever for an American player. He won an FA Cup that season, too. Of course, this list isn't about the past. What pushed Howard to the top of the list was how he transformed Everton from a middle of the pack team to a solid Top Four contender when he moved to Merseyside ahead of the 2006/07 season. Yes, he's prone to the occasional blunder but still has the chance to be the most decorated American player over the next decade, as he's only 28. Earlier this season Everton locked him up until the 2012/13 season. Can't see any other American getting that kind of level of commitment.
————–
Seems like a pretty good list to me. Anyone else disagree?
As with most people, i'm obsessed with Facebook these days.  But is it the best?
From a numbers perspective, MySpace is still the big dog. I read an article yesterday from danah about how Facebook is attracting more affluent, middle-class users whereas MySpace indexes higher for less privileged users.  It's a good read (article is here)
I also read today that Friendster is still hanging around.  The top social networks in the world are:
MySpace
Facebook
Hi5
Friendster
Bebo
Hi5 is a huge social network in Europe.  I've heard from my Romanian friends that this is the go-to place for them.  From what i can tell, it's a pretty standard site.   Bebo is a UK site that focuses on music, similar to how MySpace does. I think they're a little more sophisticated in terms of functionality but they definitely haven't hit it out of the park the way facebook has.
Friendster is a strange one though. It's functionality is nothing special but it has been around for a long time and has lots of users.  The problem is that it doesn't have anything unique or special about it and there's no reason to go back every day.  It is less sketchy than MySpace but less cool than facebook.  It rides somewhere in the middle.  Social networking is such a large phenomenon that there is probably room for a player like this.
What do you think?  What has been your experience with these sites?
Why go out tonight? How about 25 reasons why….
If you don't drink that booze, someone else will – now get off your ass
Bad ass nicknames like "Chuggybear," "The Alabama Hamma," "Pukey McPukerson" are not awarded to people who stay home to do laundry (ahem: kmr)
This is the one and only night your soul mate will wander into the bar. Seriously.
Word on the street is the booze has been trash talking you all day.
It's far better to have a good time you won't remember than a dull one you will.
Remember your English high school teacher that you used to call "Mr. McTightass?" You are starting to remind me of him.
How the hell can you walk around sober when you're an insignificant speck in an infinite and uncaring universe?
Churchill and FDR got drunk, Hitler didn't. Need i say more?
If you don't you'll wake up in the morning all bright eyed and bushy tailed, and who the hell wants to go through life acting like a goddamn squirrel?
Your friends can't have a good time without you.
Or, even worse – your friends might have a great time without you.
There is a 1000 percent better chance you will land a starring role in the upcoming Paris Hilton video Vegas Orgy.
Your lawn is so much more comfortable when you're loaded.
That feisty barmaid might finally, you know, pick up on what you're laying down.
Are we down on this little place we call earth to have a good time or watch other people have a good time on TV?
Your girlfriend has rented a bunch of chick flicks you can snuggle to – including Legally Blonde 3.
If you don't hunt the booze, the booze will surely hunt you.
When you write your memoirs you won't have to go through the hassle of making up a bunch of decadent adventures.
Modern life is a shit storm and booze is the only umbrella without any holes in it.
You did your goddamn monkey dance for the Man and now you get your monkey treat.
The day will come when you will have to single-handedly face death, and there isn't a person alive who can tell you what will happen next.
Hemingway shot himself after being sober for two months.
When your coworkers ask "What did you get up to last night?" you can smile all cool like and say "Maaaaaan, you don't wanna know," instead of chirping "I alphabetized my DVD collection and found out I have two copies of The Truth About Cats and Dogs! Two!"
Remember your childhood dream of meeting a brewery heiress and jet-setting around the world on her dime? You think that's going to happen while sitting in your goddamn apartment watching Planet Earth's Shallow Seas?
It's so much easier to call up those your ex and explain exactly where they went wrong.
Here are the top phrases – some ironic, some funny, and some just great in the way that your grandfather is great. Not because he's cool, just because he is.
A tie with "Double-True" and "I'm dropping Hamiltons like my name is Aaron Burr" from the best video of 2006, SNL's Lazy Sunday. Which just goes to show that the internet is where it's at. Remember these guys began on the internet doing funny stuff on thelonelyIsland.com, then got hired by SNL and made a kickass video which showed on TV where nobody watched it and then it only became famous when it want BACK on the internet. They came full-circle.
"It was very hot, I think that was the only explanation for the water. Or maybe it was because the beer I had last night." -Floyd Landis in Cycling News which reminds me of another great quote: "Son, when you participate in sporting events, it's not whether you win or lose: It's how drunk you get." – Homer Simpson
"Keep in mind Brian McBride is playing with titanium plates in his face." John Harkes discussing McBride's condition while the states were playing World Cup champion Italy.  McBride broke his face in the first game when the US lost a shocker to Poland and then with a lot of grit and heart they tied the eventual champs 1-1.
"Join Bode" from a huge marketing campaign from Nike for the 2006 Olympics. It fell flat on its face when Bode fell flat on his ass and didn't win any metals.
"I think it's better to buy real estate than say, a yellow and purple Corvette or an elephant that can speak sign language. My parents help me out a lot with that stuff. They don't want to see me when I'm 30, dead broke, selling bootleg tapes of my snowboard movies on the side of the freeway." — Olympic gold medalist Shaun White on how he spends his endorsement money. Unlike Bode, he won a few. My take on Snowboarding in the Olympics is here although this is helping me possibly change my mind.
"I enjoy Cocaine because it's a fun thing to do." – Representative Robert Wexler. Said on the Colbert Report in mid-July by the Boca Raton representative, who was running unopposed for reelection. He played along with Colbert's "Say Anything, You Can't Lose" game and jokingly expressed his fondness for cocaine, and it was genuinely hilarious. Colbert then came under attack from the morning shows and responds in typical Colbert fashion
[youtube=http://www.youtube.com/watch?v=UbhLKgzep1w]
"I'm sick and tired of these motherfucking snakes on this motherfucking plane" said by Samuel L in Snakes on a Plane one of the most anticipated and ironic movies to come out in a long, long time.
"Little 8 lb 6 oz baby jesus, i'd like to thank you for…." – Ricky Bobby saying grace before dinner.
"I had one margarita (and) was starving because I had not eaten all day. Maybe I was speeding a little bit and I got pulled over. I was just really hungry and I wanted to have an In-N-Out Burger." – Paris Hilton, establishing herself as a professional name-dropper.
I'm a big supporter of US soccer. We've got consistently better over the past 20 years and are only going to continue to improve.
However, the US just got crushed by the rest of the world (Ghana and Czech) at the World Cup. It was sad. The other teams looked faster, better, and more experienced. Because of this, i began to think about what would happen if the best athletes in the United States actually played soccer instead of more popular (and lucrative) sports such as basketball, football, or baseball and what our team would actually look like.
I came to the conclusion that our team would be a standard 4-4-2 formation and would consist of mostly football and basketball players. I thought about non-team sport athletes and while i respect them, i couldn't really find a spot for them on the roster. Here's what we've got (click here for a larger image):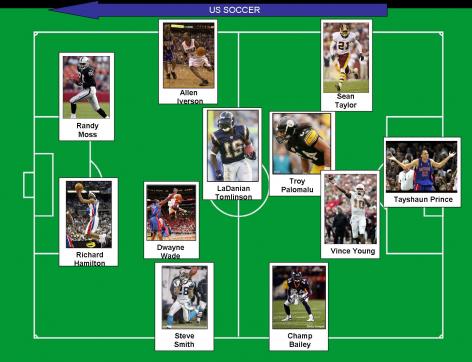 Up Front
Randy Moss (Oakland Raiders) and Richard Hamilton (Detroit Pistons). Moss would be a big target who could knock down long balls and lay it back to our incredibly quick midfield. He also would be just deadly in the air – dominating crosses. Just send it up high and let him bring it down with his chest or head. It would be great. Next to him is Richard Hamilton. Rip would also be big, but he'd rely on his great workrate to find the ball and create scoring chances. His non-stop unselfish runs to the corner and front-post would allow Moss to hang in the middle, and his back-tracking is a bonus. In addition to Rip being a workhorse, i also think he'd be a clinical finisher. Unlike Moss, he'd have a great shot from almost any distance yet be be quick enough to capitalize on mistakes in the box.
In the Middle
Our midfield is amazing. Down the flanks you have Allen Iverson (Philadelphia 76'ers) on the right and Steve Smith (Carolina Panthers) on the left. Both can run all day, and both can take people on. I can envision both absolutely abusing other defenses with their pure speed and quickness. In the middle of the field, you have Dwayne Wade (Miami Heat) and LaDanian Tomlinson (San Diego Chargers). Both have the work rate and quickness to defend any other opposing midfielders, yet the aggressiveness to tackle and attack with pace and creativity. Wade would probably go forward more, while Tomlinson tracks the ball.
In the Back
On the outsides Champ Bailey (6'0" Denver Broncos) and Sean Taylor (6'2" Washington Redskins). Champ, playing on the left is a 6-time Pro-Bowler who can cover just about anybody. Nobody would get by him. On the right is Taylor who is a combination of strength, speed, and agility that made him the best safety in the league last year. No only would he shut down opposing forwards, but he'd get forward often to support Iverson.
In the middle you have Troy Palomalu (Pittsburgh Steelers) at center back in front of Vince Young. Palomalu, as we all know, is just a beast of a defender. Could you imagine anyone taking a lot of touches in the middle of the field? Imagine him and all his hair flying at you. Vince would play behind Troy and he has the height, speed, jumping ability and athleticism to dominate any opposing forward in the air and would be a wall of a man to get around on the ground. Also, as a quarterback, his distribution around the field would be great. He could launch a ball up to a posting-up Moss who could lay it to Rip or AI or Wade for a shot on goal. Ah, it's a beautiful thing.
Keeper
At keeper, i'd like to see Tayshaun Prince (Detroit Pistons). His height, quickness, freakish long-arms, and large vertical (did i mention long arms) would allow him to take down any cross and be a great shot-blocker.
There's the team. I think we would absolutely dominate the world with this squad and with new players coming in each year (Reggie Bush), we would be a hell of an exciting team to watch.