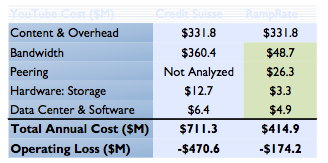 There's been a lot of buzz about a month ago about how YouTube loses money and is a horrible business.  Most of these articles came after Credit Suisse's published an estimate of YouTube's losses at $470M a year.  This is a large number and people pounced on it. However, there is a good report i just read (PDF only and downloadable here) that challenges Credit Suisse's assumptions with some more accurate numbers.  For instance, Amazon Web Services could provide storage for 50% of the costs included in CS's study.  The survey ends with:
Regardless of what you may hear, YouTube costs are a fraction of any other company running similar operations. Most of Google's bandwidth is free or near-free; its hardware is cost-optimized; and its data center costs are mostly committed or sunk. The top customers of our sourcing advisory service, whose prices are on average 20% better than the average market level, cannot deliver content as cheaply as Google's massively scaled operation. Surprisingly enough, the ones that come closest are often thosethat leverage the scale of others through using cloud services.
But even if a fair accounting of its costs showed a loss, YouTube gives Google the ability to achieve needed improvements in lowering cost of other operations. Loud stories about YouTube's losses can only help deter copyright lawsuits and demands from content owners. Skepticism is warranted — but be ready for surprise news of profitability in the future.
The article does explore the upside of allowing the market to believe the YouTube business is quick unprofitable.  With license-holders eager to renogotiate and reap larger profits, it's better to all them to perceive that it's much too expensive to host and deliver these files and thus license payments should be low.
But this is clearly wrong.  In yesterday's earnings call, Google had this to say about YouTube:
"Monetized views" on YouTube have more than tripled over the last year, said SVP Jonathan Rosenberg. Executives would not say whether YouTube was profitable, although they did say it was on a trajectory to become a "very profitable business for us" in the "not too distant future," giving a collective heart attack to analysts who have speculated about how much money the site is losing. In a follow-up call with analysts, CFO Patrick Pichette said that the company wanted to reaffirm that YouTube's business model was credible. "There's been so much press with all these documentations of massive costs and no business model," he said.
Interesting to think about next time someone speaks up about how horrible the YouTube business is.
Related articles by Zemanta