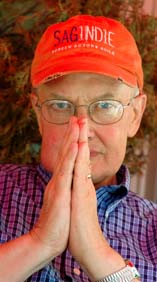 I'm reading Roger Ebert's great essay about Making Out Is Its Own Reward and thinking to myself, "Ebert's writing is the best kept secret on the Internet."
Last week I read his article Nil By Mouth where he describes how it feels to not be able to eat following his throat surgery. He offers some great observations from religious to the social.  It's an amazing essay and a must read for anyone who eats to appreciate what truly results from a meal. Hint: it's not the food.  One passage:
One day in the hospital my brother-in-law Johnny Hammel and his wife Eunice came to visit. They are two of my favorite people. They're Jehovah's Witnesses, and know I'm not. I mention that because they interpreted my story in terms of their faith. I described my fantasies about root beer. I could smell it, taste it, feel it. I desired it. I said I'd remembered so clearly that day with my father for the first time in 60 years.

"You never thought about it before?" Johnny asked.

"Not once."

"Could be, when the Lord took away your drinking, he gave you back that memory."

Whether my higher power was the Lord or Cormac McCarthy, those were the words I needed to hear. And from that time I began to replace what I had lost with what I remembered. If I think I want an orange soda right now, it is after all only a desire. People have those all the time. For that matter, when I had the chance, when was the last time I held one of those tall Nehi glass bottles? I doubt I ever had one from a can.
In this latest essay Making Out Is Its Own Reward, Ebert provides a trip back in time to a period where America's youth was held by all parts of society to the "3 foot rule" where when you're with a girl/guy 3 of your 4 feet had to be on the floor. He discusses the impact it had on a poor professor who was a touch more liberal, what it meant for him and his life as a teenager in the 50's, and how that relates to kids today.
The blog from Ebert is a treasure. Some article are solely focused on movies but regardless to topic the writing is fantastic. You get the sense that he's willing to write about anything with honesty and care. I hope it continues as can't wait to see what he writes next