I recently read a great interview by John Scully where he talks about Steve Jobs.  Scully was CEO of Apple for almost a decade.  It's just a great read.  For anyone in the tech business, this is a story about our times about a man who more than anyone else has invented products that impact our lives.
Here are some good quotes:
The time that I first met Jobs, which was over 25 years ago, he was putting together the same first principles that I call the Steve Jobs methodology of how to build great products.

Steve from the moment I met him always loved beautiful products, especially hardware. He came to my house and he was fascinated because I had special hinges and locks designed for doors. I had studied as an industrial designer and the thing that connected Steve and me was industrial design. It wasn't computing.
On Steve jobs being a minimalist:
What makes Steve's methodology different from everyone else's is that he always believed the most important decisions you make are not the things you do – but the things that you decide not to do. He's a minimalist.

I remember going into Steve's house and he had almost no furniture in it. He just had a picture of Einstein, whom he admired greatly, and he had a Tiffany lamp and a chair and a bed. He just didn't believe in having lots of things around but he was incredibly careful in what he selected. The same thing was true with Apple. Here's someone who starts with the user experience, who believes that industrial design shouldn't be compared to what other people were doing with technology products but it should be compared to people were doing with jewelry… Go back to my lock example, and hinges and a door with beautiful brass, finely machined, mechanical devices. And I think that reflects everything that I have ever seen that Steve has touched.
Look at his apartment back then: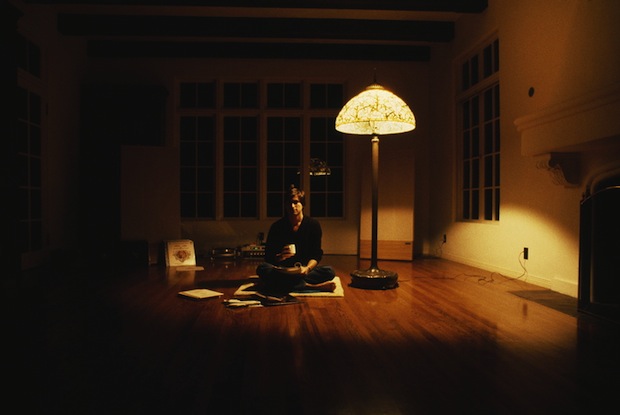 Steve on org structures:
The other thing about Steve was that he did not respect large organizations. He felt that they were bureaucratic and ineffective. He would basically call them "bozos." That was his term for organizations that he didn't respect.

The Mac team they were all in one building and they eventually got to one hundred people. Steve had a rule that there could never be more than one hundred people on the Mac team. So if you wanted to add someone you had to take someone out. And the thinking was a typical Steve Jobs observation: "I can't remember more than a hundred first names so I only want to be around people that I know personally. So if it gets bigger than a hundred people, it will force us to go to a different organization structure where I can't work that way. The way I like to work is where I touch everything."
At his core, Steve is a designer:
The thing that separated Steve Jobs from other people like Bill Gates — Bill was brilliant too — but Bill was never interested in great taste. He was always interested in being able to dominate a market. He would put out whatever he had to put out there to own that space. Steve would never do that. Steve believed in perfection. Steve was willing to take extraordinary chances in trying new product areas but it was always from the vantage point of being a designer. So when I think about different kinds of CEOs — CEOs who are great leaders, CEOs who are great turnaround artists, great deal negotiators, great people motivators — but the great skill that Steve has is he's a great designer. Everything at Apple can be best understood through the lens of designing.
More stories:
An anecdotal story, a friend of mine was at meetings at Apple and Microsoft on the same day and this was in the last year, so this was recently. He went into the Apple meeting (he's a vendor for Apple) and when he went into the meeting at Apple as soon as the designers walked in the room, everyone stopped talking because the designers are the most respected people in the organization. Everyone knows the designers speak for Steve because they have direct reporting to him. It is only at Apple where design reports directly to the CEO.

Later in the day he was at Microsoft. When he went into the Microsoft meeting, everybody was talking and then the meeting starts and no designers ever walk into the room. All the technical people are sitting there trying to add their ideas of what ought to be in the design. That's a recipe for disaster.

Microsoft hires some of the smartest people in the world. They are known for their incredibly challenging test they put people through to get hired. It's not an issue of people being smart and talented. It's that design at Apple is at the highest level of the organization, led by Steve personally. Design at other companies is not there. It is buried down in the bureaucracy somewhere
On being chosen as CEO over Jobs:
Looking back, it was a big mistake that I was ever hired as CEO. I was not the first choice that Steve wanted to be the CEO. He was the first choice, but the board wasn't prepared to make him CEO when he was 25, 26 years old.

They exhausted all of the obvious high-tech candidates to be CEO… Ultimately, David Rockefeller, who was a shareholder in Apple, said let's try a different industry and let's go to the top head hunter in the United States who isn't in high tech: Gerry Roche.

They went and recruited me. I came in not knowing anything about computers. The idea was that Steve and I were going to work as partners. He would be the technical person and I would be the marketing person.

The reason why I said it was a mistake to have hired me as CEO was Steve always wanted to be CEO. It would have been much more honest if the board had said, "Let's figure out a way for him to be CEO. You could focus on the stuff that you bring and he focuses on the stuff he brings."

Remember, he was the chairman of the board, the largest shareholder and he ran the Macintosh division, so he was above me and below me. It was a little bit of a façade and my guess is that we never would have had the breakup if the board had done a better job of thinking through not just how do we get a CEO to come and join the company that Steve will approve of, but how do we make sure that we create a situation where this thing is going to be successful over time?

My sense is that when Steve left (in 1986, after the board rejected his bid to replace Sculley as CEO) I still didn't know very much about computers.

My decision was first to fix the company, but I didn't know how to fix companies and to get it back to be successful again.

All the stuff we did then were all his ideas. I understood his methodology. We never changed it. So we didn't license the products. We focused on industrial design. We actually built up our own in-house design organization, which they have to this day. We developed the PowerBook… We developed QuickTime. All these things were built around Steve's philosophy… It was all about sales and marketing and the evolution of the products.

All the design ideas were clearly Steve's. The one who should really be given credit for all that stuff while I was there is really Steve.
And there's more.  As i said, it's just a great read.