I listened to the announcement last week and have a lot of thoughts on the upcoming iPhone.
Apple's launch event came, and delivered (mostly) what had been leaked and/or expected: a larger iPhone & a phablet, payments and a smart watch. The phones are mostly predictable: the customer is always right, and the customer has decided to optimise for pocket size and experience over thumb size (the changes in iOS7 & iOS8 have made it possible to do this, incidentally).
Why did they make it bigger?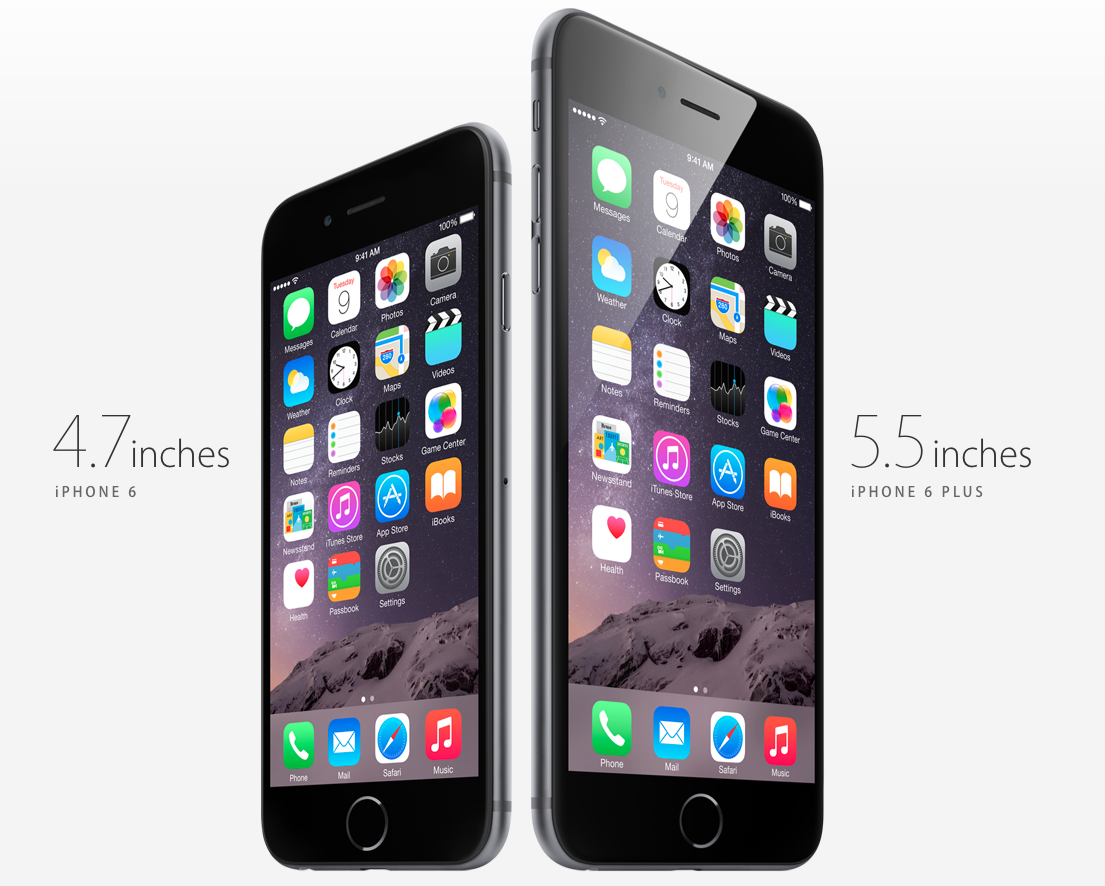 Basically, Apple dominates the high end of the phone market. They like it that way. To date, there has been a few high-end Android phones eating away at their sales (mostly Samsung phones). There are currently six reason people buy these phones (taken from Benedicts's Blog):
Their operator subsidies an Android but not an iPhone – this has now ended, with Apple adding distribution with all the last significant hold-outs (Sprint, DoCoMo, China Mobile)
They don't particularly care what phone they get and the salesman was on more commission to sell Androids or, more probably, Samsungs that day (and iPhones the next, of course)
They have a dislike of Apple per se – this is hard to quantify but probably pretty small, and balanced by people with a dislike of Google
They are heavily bought into the Google ecosystem
They like the customizations that are possible with Android and that have not been possible with iOS until (to a much increased extent) iOS8 (more broadly, once could characterize this as 'personal taste')
They want a larger screen.
The first has largely gone, the second is of little value to an ecosystem player and nets out at zero (i.e. Apple gains as many indifferent users as it loses) and the third is small. Apple has now addressed the fifth and sixth. That is, with the iPhone 6 and iOS8, Apple has done its best to close off all the reasons to buy high-end Android beyond simple personal preference. As Benedict Evans states, "You can get a bigger screen, you can change the keyboard, you can put widgets on the notification panel (if you insist) and so on. Pretty much all the external reasons to choose Android are addressed – what remains is personal taste."
What's the deal with ApplePay?
A lot of people are saying "they are going to make a ton of money with ApplePay!" and "They are going to crush PayPal!" – both are not even close to true. If you look at what they are actually doing here, it's not to take on banks, credit cards or any actual payment system. They are taking on the wallet. If you look at what they did with music – they didn't put Universal Music out of business, they didn't come up with a better way to be a label, they just crushed the music store (like Tower Records). It's the same here. You still need a credit card. You still need a bank to issue thecard. You just don't have to pull it out or even have it when buying something.
I just pre-ordered my new iPhone 6 (not the Plus) to get it on Friday. What about you? You buying one?