Police + Public
We're now five days away from George Floyd's death and we're getting to a better place. On Saturday all I saw was police officers using batons, tear gas and rubber bullets. There was a lot of pain.
Yesterday, at first I saw something different. I saw people coming together and some police joining in with protesters to express their stance against police brutality, and to show solidarity with the anti-racism movement.
Here are a few:
In Flint Michigan the Sheriff took of his helmet, instructed all officers to lay down batons and to chants of "walk with us" joined the protesters in their march
Genesee County Sheriff (Flint, Michigan) Chris Swanson put down his helmet and baton and asked protesters how he could help.

The protesters chanted "walk with us" so the Sheriff joined — and walked alongside the protesters in solidarity.

Leadership.🌎❤️ pic.twitter.com/Vs3941C2o8

— Rex Chapman🏇🏼 (@RexChapman) May 31, 2020
At a protest in Camden, instead of throwing up their shields, police there marched alongside the demonstrators
In New Jersey the police officers are protesting WITH the people shouting no justice no peace. This is how it should be, every police station should be walking with their community there is no excuse! pic.twitter.com/8pwkCOA2fP

— ً (@AMPZ222) May 30, 2020
In Santa Cruz, California, the police chief took a knee with protesters with the department and tweeted out:
SCPD is fully supportive of peaceful protests @CityofSantaCruz and we always keep them safe.

Hundreds gathered on Pacific Ave in #SantaCruz, taking a knee together in memory of George Floyd & bringing attention to police violence against Black people. PhotoCredit @Shmuel_Thaler pic.twitter.com/EmfAfcIZaM

— Santa Cruz Police (@SantaCruzPolice) May 30, 2020
In Kansas City:
Apparently cops in Kansas City joined the local protest against police brutality. And my first reaction was to say something smart ass. But this is truly a start. pic.twitter.com/e3sUwaR16h

— Dylan (@dyllyp) May 30, 2020
In Fargo:
Pictured is @FargoPolice holding hands with protest organizers & a sign 'We are one race… The HUMAN race.' Truly powerful. pic.twitter.com/szkwRTmDAg

— Bailey Hurley (@BaileyHurleyVNL) May 30, 2020
In Ferguson, MO:
An HIP intern was filming a protest in Ferguson, MO at the police station when this happened…. As the protest leader called for a 9 1/2 minute knee in honor of George Floyd; Ferguson police of every color also took a knee in joint honor with protest. #WeStandTogether pic.twitter.com/6iN0dMroby

— Heroic Imagination (@HIPorg) May 31, 2020
But, wait…
as last night approached, the scene turned ugly. More riots occurred. They started happening all over the place:
In Santa Monica the police tear gassed everyone. In Minneapolis, a semi-truck driver ran his truck through a group of protesters.
Traffic cam of the semi truck coming towards the crowd. pic.twitter.com/va7bmccZYI

— Seth Kaplan (@Seth_Kaplan) May 31, 2020
It was bad, maybe the worst I've seen America in a long time. Trump remained silent.
Some photos from Minnesota and around the country:
The
From @brd_dispatch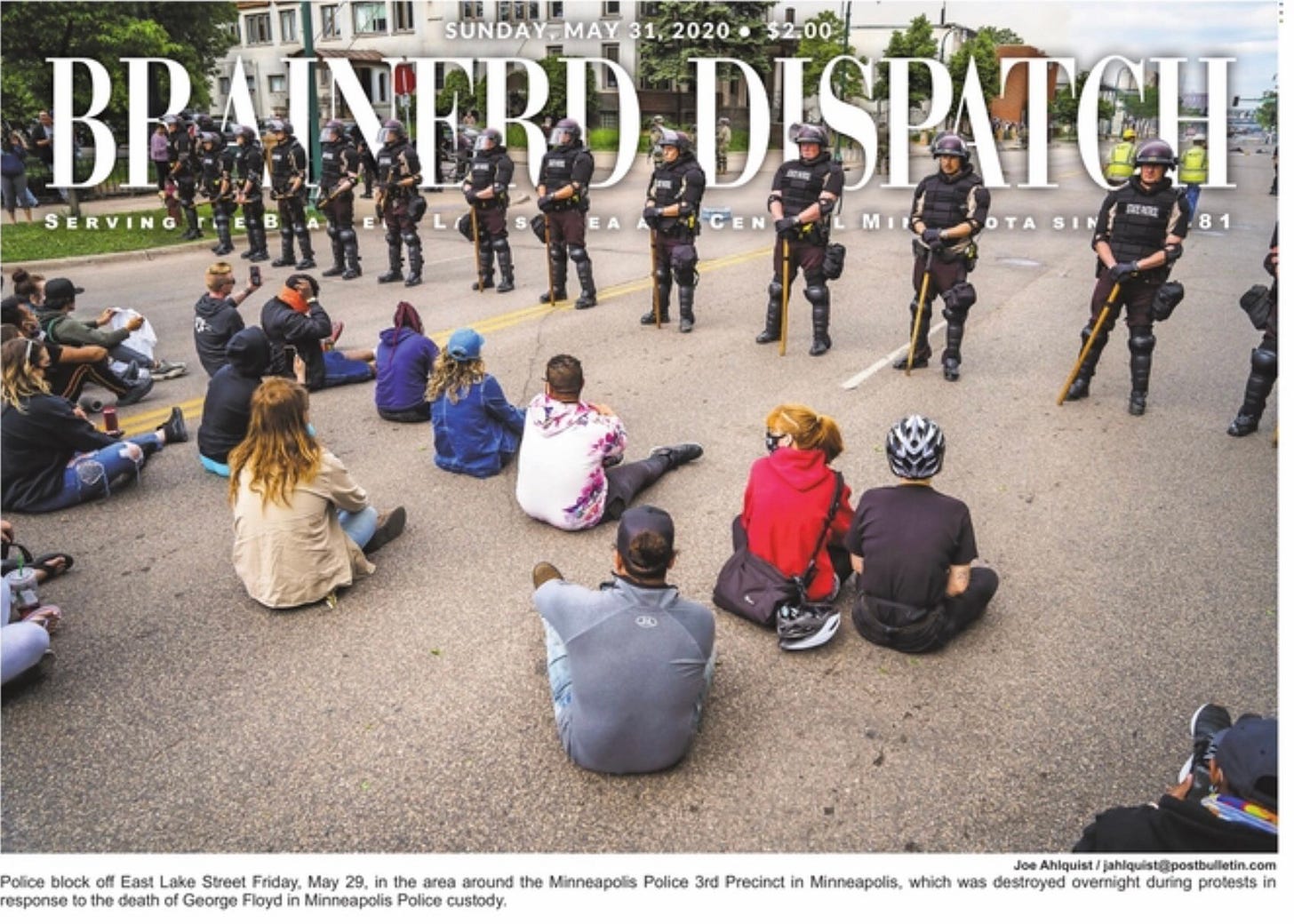 In Kansas City:
In Utah at @DeseretNews
. @eldiariony, by @GettyImages 6/ pic.twitter.com/yO4UBbS09t

— Ann Marie Lipinski (@AMLwhere) May 31, 2020
From @mercnews
In Detroit
Other Stuff
Trump's star in Hollywood is no more:
They destroyed Donald Trumps starrrrrrrrr 🥳#protests2020 #BLACK_LIVES_MATTERS pic.twitter.com/Fi8APDefBm

— Xochilt Gonzalez-Salinas (@XochiltGS) May 31, 2020
As if we didn't have enough to worry about:
Reports of a Tiger on the loose near the Oakland Zoo. If you see it call 911. 98th Ave at Golf Links.

— Alameda County Sheriff (@ACSOSheriffs) June 1, 2020
Dogs are the best:
We don't deserve 'em.

Dogs, broheim…💪🐶😍😇❤️ pic.twitter.com/N7JgIvFnSa

— Rex Chapman🏇🏼 (@RexChapman) May 31, 2020
I'll finish with this one:
Never forget! ❤️ pic.twitter.com/IcGOtKqPgY

— Buitengebieden (@buitengebieden_) May 31, 2020
Corona
Seems not relevant given the madness, but cases are still trending down.