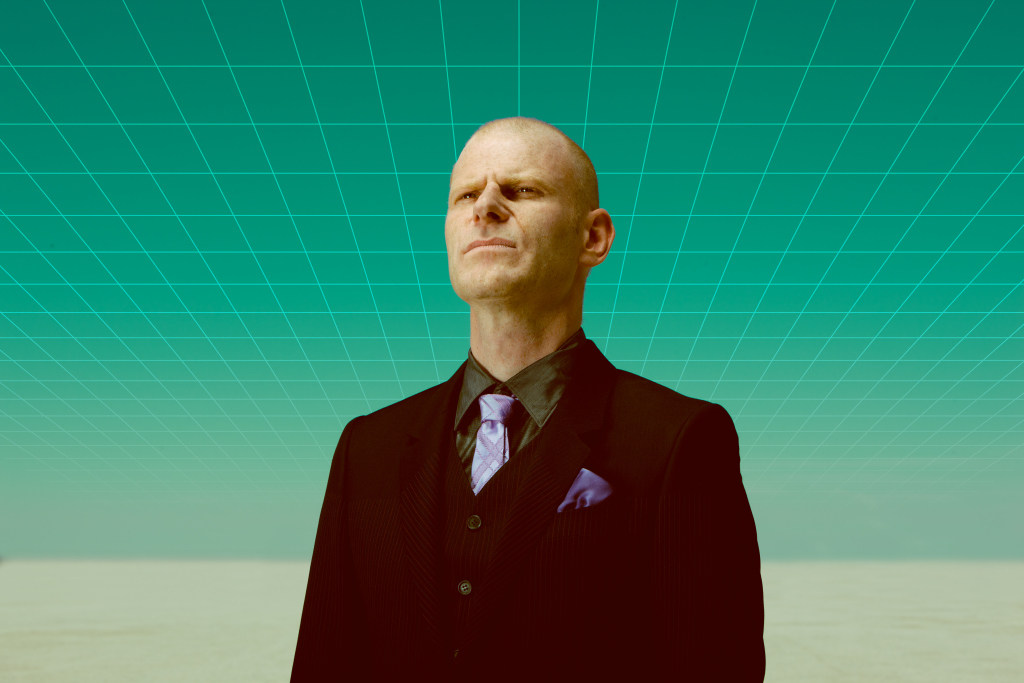 The film composer Tom Holkenborg talked about how he keeps getting film work in this article. He says:
If you talk to other film composers and to people who work in the industry, the fact that you're an original, talented musician is a given fact. What is left then? It's, how are you as a person in a room? Do you deliver on time? Do you make the movie better? Do you understand what the director wants? Can you walk that really fine line of politics when things get sour and you help solve the problem?

– Tom Holkenborg, aka JUNKIE XL, composer of "Mad Max: Fury Road" and "Black Mass"
I love this. This is how I feel about work too. The fact that you're talented and can actually do the work really well has become a given. You have to be able to go beyond that and be both great at what you do and good at actually working WITH people.
I've been reading and listening a lot about cars and their evolution lately. It's pretty fascinating.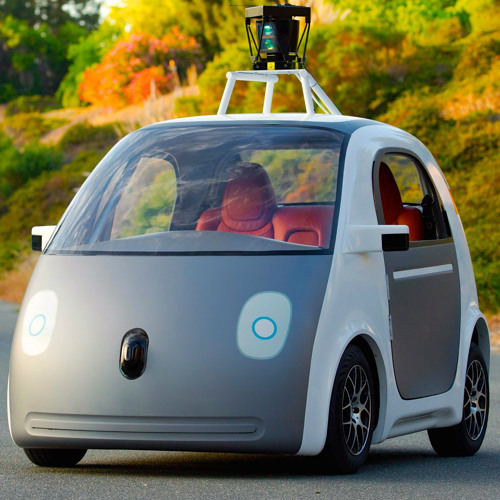 It seems that three trends are converging to shape our future:
Electric cars are becoming a real option. This changes the game by making the hard part of building a car shift from making an engine to making a battery. This is a much different, and much easier, problem. Opens the market to many more and different companies.
Self-Driving cars. This has been happening at Google for over a decade. Now Tesla has one, so does Audi and BMW, and Uber has said this is the future and is pouring resources into it. Apparently the only hard parts remaining for self-driving cars to figure out is how to drive in bad weather and how to see through fog and haze. I'd say that lots of humans struggle in these areas too.
On-demand cars. You can call a car at the push of a button. Uber and Lyft's come to me in under 3 minutes now. They are everywhere and growing.
The mix of all three of these make for some interesting scenarios. Some quick ones that i've been pondering about:
In the future, you own a self driving car. You go to dinner in the city and it drops you off at the restaurant. It then can drive around the city and pick up people (like an Uber) and make some quick cash. Will we allow just any self-driving car to do this?
What do the interior of these new self-driving cars look like? You don't have to face forward and you don't have to have a dashboard. You don't even have to sit up — you could be lying down and sleeping while they drive. The extra sleep or productive time I would gain from a self-driving car is hours a day week and days a month. The found time would be incredible.
In the future, do people even own cars or are there just a lot of on-demand vehicles of them out there that are available on demand?
Self-driving cars have better collision detection that humans. They can communicate with cars around them and decide on where they are going ahead of time. In that case, do we even have lanes on the road anymore? Do we have stop signs and stoplights? Are there a lot more bicyclists because you know it's 100% safe to ride your bike on the road?
Who makes all of these cars? The car industry is $1 trillion. To put that into perspective: the global advertising industry is $500 billion. The 3 luxury car manufacturers of BMW, Lexus an Audi make up a market about the same size of the iPhone market. There are very few things in this world that are as big as the car industry. So, you can see why it'd be enticing for Apple to get into this game.
It's interesting that Uber thinks of the driver as a major cost issue in their platform and getting rid of the driver gets rid of 70% of the costs of a trip. This is why they are aggressively exploring "smart routes" and Uber Pools as 1.0 version of driverless cars.
I've noticed that some of the people I talk to about this are hesitant or resistant to this future. People love their cars. I know that i do. But i have to imagine that people use to love their horses too. In fact, i'm guessing that people liked horses back in the day more than we like cars now.
Back in 2010, Toby, Nader and I went into Techstars.  In the Techstars bunker we took our seats next to two young guys who had a crazy look in their eyes.  These two guys, Ian and Adam, were hard core robotics and mobile engineers and we liked them immediately.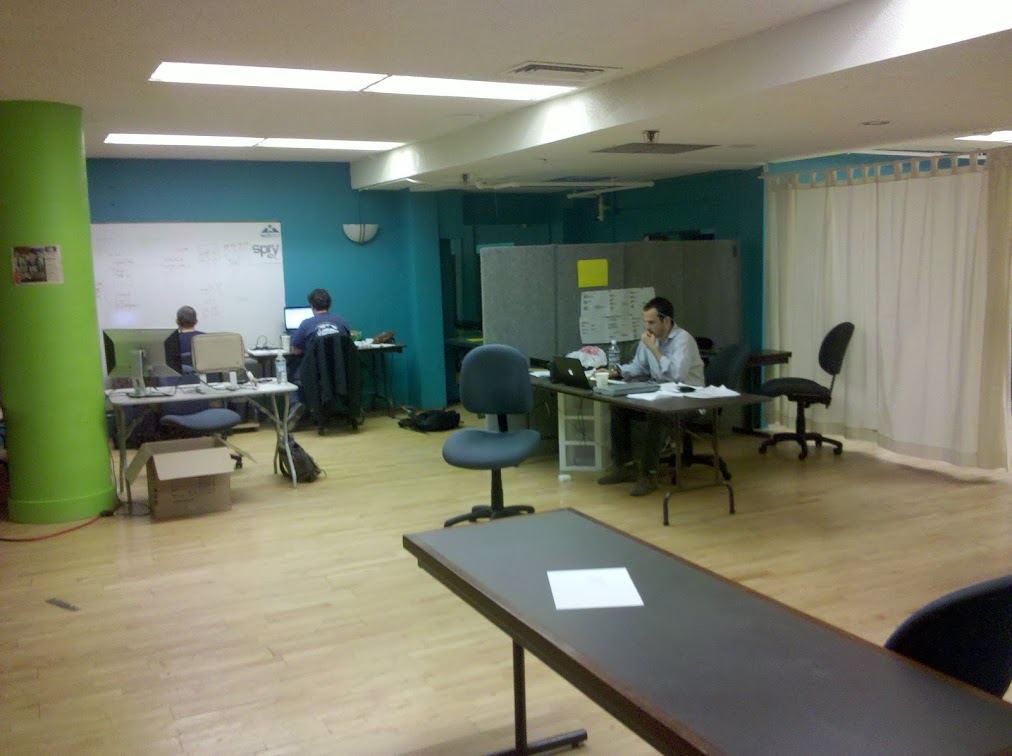 The problem was that they didn't really have a good idea for their company.  After a few weeks of discussing what to do with mentors, they decided to make smart hotel room keys.  Keys that could be controlled by your smart phone.  It was a huge market and seemed destined to be a successful company.  There was one issue with their plan: they totally weren't into it.  One of their mentors asked them "What do you guys do in your spare time?"  They replied that they played games.  He responded, "why don't you do that instead?"  And thus the robotic ball, the original Sphero, was born.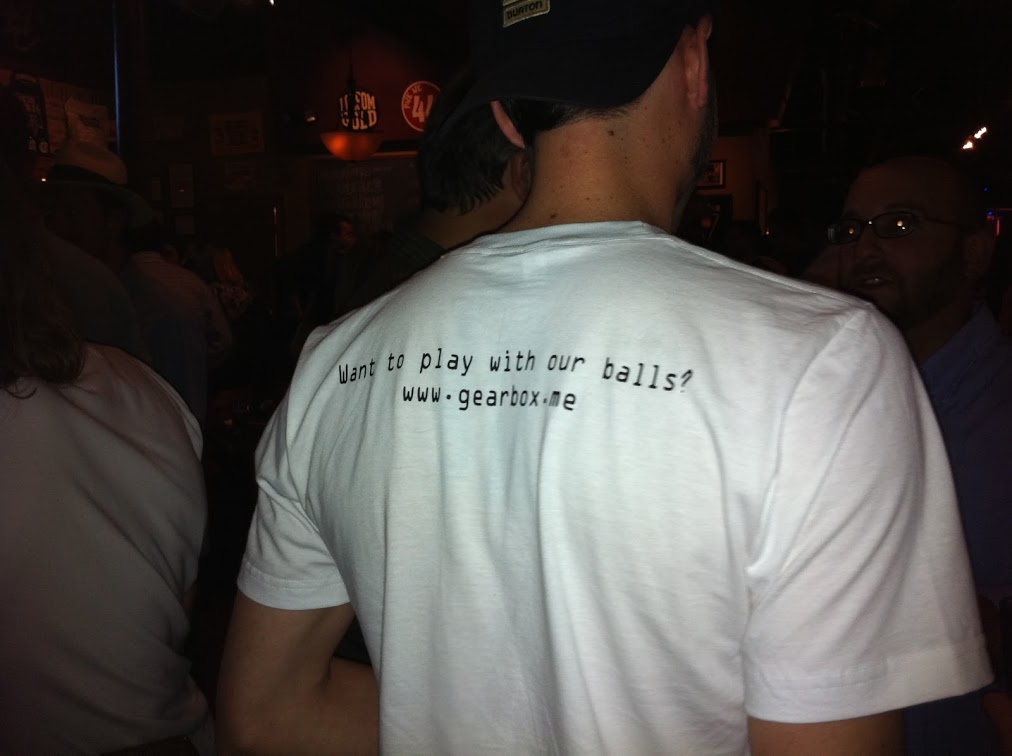 Five years later the balls are better, faster and in more styles (check out Ollie, he's awesome).  They just yesterday released the coolest version yet, the Droid BB-8 that will be featured in the upcoming Star Wars film.
These two guys went from nothing in the basement in Boulder to producing with Disney the coolest toy in the world. A huge congratulations to them. Well done!
I just read this article by Michael Simmons and it was really interesting. It states that that simply being in an open network instead of a closed one is the best predictor of career success.
The idea is that people in open networks have unique challenges and perspectives. Because these curious folk are part of multiple groups, they have unique relationships, experiences, and knowledge that other people in their groups don't. These views lead to more and better opportunities.
The chart for this is: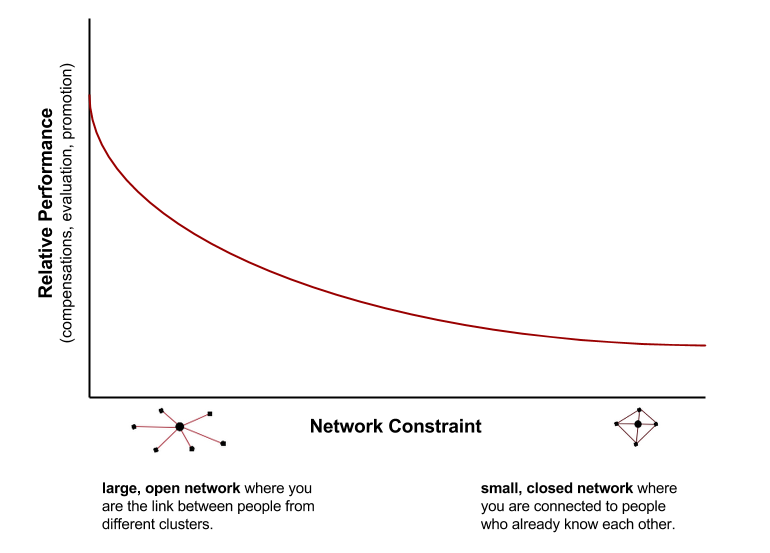 It also interesting to see how this played out with Steve Jobs. He always advocated for diversity of experiences. In a Wired interview in 1995, he said:
Creativity is just connecting things. When you ask creative people how they did something, they feel a little guilty because they didn't really do it, they just saw something.
It seemed obvious to them after a while. That's because they were able to connect experiences they've had and synthesize new things. And the reason they were able to do that was that they've had more experiences or they have thought more about their experiences than other people.
Unfortunately, that's too rare a commodity. A lot of people in our industry haven't had very diverse experiences.
So they don't have enough dots to connect, and they end up with very linear solutions without a broad perspective on the problem. The broader one's understanding of the human experience, the better design we will have.
I love this position. The experiencing of different industries, different cultures and different perspectives is a great goal to have.
Parking in San Francisco is a pain and I always dreaded visiting some of my friends as i knew i'd be circling for a long long time.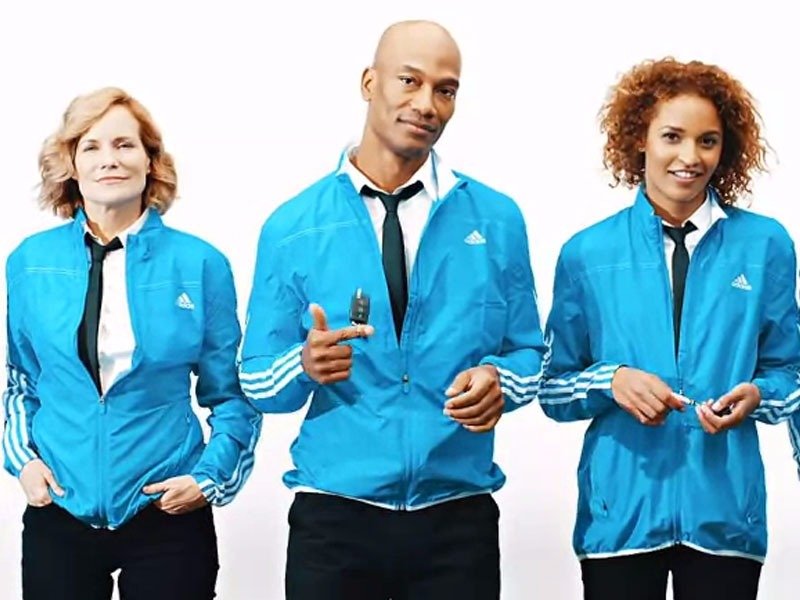 That is, until i met Luxe.  They are an on-demand valet service.  About 10 minutes before you arrive somewhere, you open the app and drop a pin at where you're going.  They will then have someone meet you there who will then take your car and park it for you in one of their lots.  The valets cruise around on little foot scooters which they put into your trunk when they take your car.
Also, you can have them bring your car to a different spot than where you dropped it off.  So, on a friday night if I meet my friend at his house and then we walk to dinner and then take a Lyft/Uber to a movie/show somewhere, i can then have my car delivered to me once we're all done so I can drive home.
The price is what makes it doable.  It's $5 an hour or $15 daily max. It's less than most garages in the city but with more convenience.
They also have a $300 monthly unlimited use rate which is also cool if you want to use it for work or if you don't have a parking spot at home.  I somehow doubt that it's that profitable, or profitable at all as a business, but if VC's want to fund my convenience, i'll take them up on that offer.
Note: they just switched all of the employees to be W2 workers.  Interesting.
This is post #9 about the Qloud experience. The previous post was about about how we used YouTube as a music engine. Read that post here.
The year is 2007 and we're building as fast as we can our new music service. It's going to be a full-powered music streaming service on top of a collaborative music search engine and it's going to be sweet.
Before we launched I went out to lunch with Sean Parker (known by many of you as Justin Timberlake in the movie The Social Network). At the time he had left Facebook and was about a year into his new VC gig at Founders Fund. We sat down to lunch and the subject immediately turned to our upcoming launch. He asked, "Hey, do you know about Facebook's platform?" I didn't and he went to explain it to me. Basically FB needed a way to expand and what better way than have companies build their product in to Facebook. While the 3rd party companies would provide the development, Facebook would allow you to message and add their users as your users. It sounded cool.
I went back to the team and explained this upcoming launch. I got in touch with Dave Morin (yep, the Path founder used to be head of Facebook platform) and he gave us access to the platform. Our plan was to build a subset of our service on Facebook and gain some early users. Then, when we launched our new website we could make a claim that says, "We already have 10,000 users on Facebook."
It did not go that way at all.
Launching on Facebook right when the Platform was launching was probably one of the best things we did. Because it was new, it had a bunch of early adopters. It also had a bunch of loopholes that allowed us to market and message millions of users. If you remember getting a ton of requests to join some stupid game, that was the platform. We used to do things like "You can't install our app unless you invite 30 friends." and people did it.
Of course Facebook wasn't happy about this, but we weren't going to stop. Kudos goes to our colleague Noah who really figured out how to growth hack the crap out of it.
Lessons learned: at both Kapost and Qloud, we grew because we attached ourselves to a tidal wave in the industry. In Qloud it was the Facebook platform and Kapost it was Content Marketing. Facebook eventually would shut down the platform but not until much later. Heck, even Zynga used it to become a billion dollar company leveraging Facebook's platform. Sometimes the bright and shiny new thing in the industry is worth going after.
One of my little pet peeves is how people use their dock on their Mac.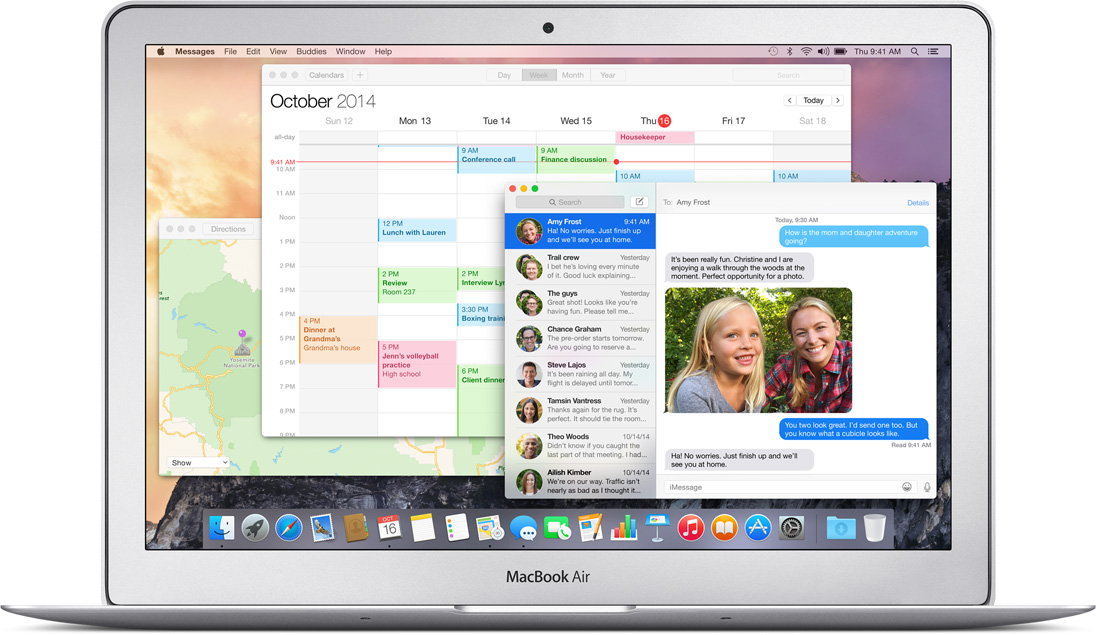 Here's my logic. What do you do most on your computer? You read web pages from top to bottom. Because of this, your page is maximized from top to bottom and you spend most of your time scrolling. There is usually extra space to the sides of the page.
Why then, do you take up extra space on the bottom of the page with a dock? You are constrained vertically but have surplus horizontally. It makes so much sense for you to have your dock on the left or the right.
If you have it on the bottom and set to hide that solves most of the problem, but because you scroll so much up and down, you can hit your dock by accident a bit. But it works.
My rant for the day.
Verizon is buying AOL for 4.4B.  It could be about ad-tech. It could be about mobile. It could be about content.  I'm not sure why it's happening and i'm pretty sure that it's not going to work out well for Verizon. But, more than anything to me, the sale feels like an epilogue to part of internet history.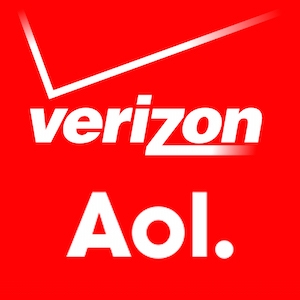 AOL is specail to me.  It was my first job out of college. I had a great boss and I learned a ton. I met some amazing people, many of them have become good friends that i still talk with today. I also learned all the reasons why working at a big company sucks and it drove me to want to work at smaller, more nimble companies.
I also think that the AOL / Time Warner merger is a misunderstood story.  Let me defend it for a second.
I've been hearing frequently that the best business model you can have is to be a marketplace. I heard it on this podcast from a16z "The Marketplace Rules" and again today when i read the HBS article called "What Airbnb, Uber, and Alibaba Have in Common"
The article states that there are 4 types of businesses in the world:
Asset Builders: These companies build, develop, and lease physical assets to make, market, distribute, and sell physical things. Examples include Ford, Wal-Mart, and FedEx.
Service Providers: These companies hire employees who provide services to customers or produce billable hours for which they charge. Examples include United Healthcare, Accenture, and JP Morgan.
Technology Creators: These companies develop and sell intellectual property such as software, analytics, pharmaceuticals, and biotechnology. Examples include Microsoft, Oracle, and Amgen.
Network Orchestrators. These companies create a network of peers in which the participants interact and share in the value creation. They may sell products or services, build relationships, share advice, give reviews, collaborate, co-create and more. Examples include eBay, Red Hat, and Visa, Uber, Tripadvisor, and Alibaba.
And of those four, the Network Orchestrators are rewarded the most in the market: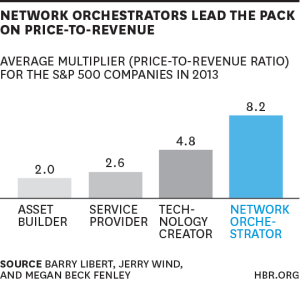 Because they actually generate better business numbers: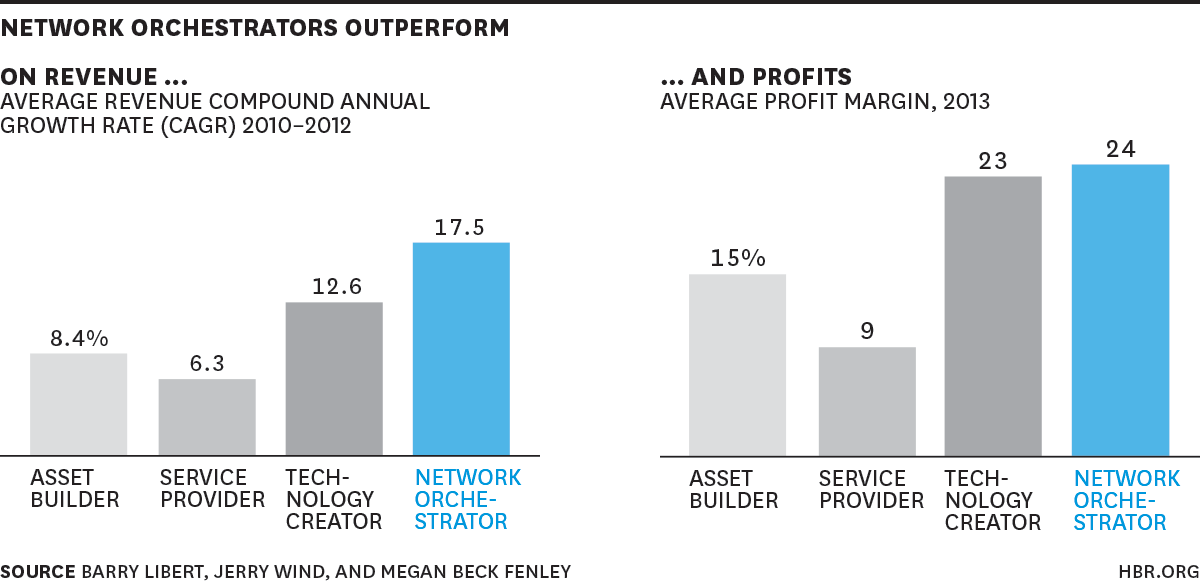 It makes sense as these businesses can scale faster and more efficiently than any traditional business. I'm always a bit amazed that eBay isn't more recognized as the leader and pioneer in this category. What they did 15 years ago is what many of the marketplaces are trying to replicate today. Kudos to them.
That's it. Just wanted to share the article…
Yesterday, Kapost announced that it closed another $10 million dollars, some of it from Salesforce. Salesforce is the arguably the biggest and most badass B2B company on the planet so to get an investment and endorsement from them is huge.
This is a great accomplishment for the team. It's never easy raising money and this round took around 4 months to put together (maybe more)
Also, Megan over at Techstars shot a video of us in the office and just pushed it out. Here it is: