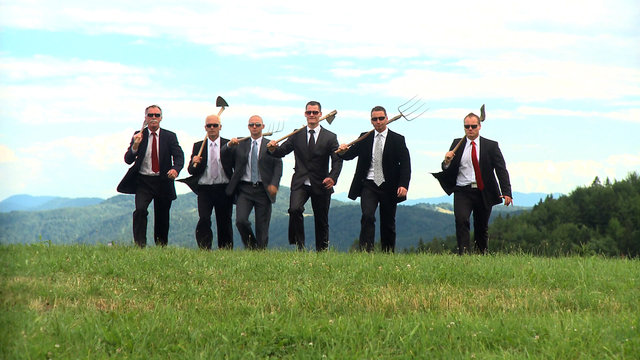 I read a good post by Jason Lemkin (former CEO of EchoSign, now partner at Storm Ventures) about hiring VP's in your company and he had the following passage which totally resonated with me:
SaaS is going into battle together every day. Wining that next customer. Saving that big deal. Building that crazy feature. Every day, there's a new drama.

It's truly a team effort. The VP of Sales opens and closes. The VP Marketing feeds the machine. The VP of Customer Success keeps it running and adds fuel to the fire. The VP Product makes sure the 1,000+ customers get what they need, as impossible as that is. And the VP Engineering's job is to make a business process 10x better than it ever was before, just using computers. This is teamwork. And it's really not that silo'd at all. You're all working on different parts of the same puzzle — Customers.

Where I don't see true teamwork, I almost always see eventual failure. Or at least, underperformance.
I'm running the product ship and I feel really thankful that we have a great team lined up right now of Toby, Patrick, Riley and Nader.
It's a battle out there but with these folks, I like our chances….
I remember my sophomore year in high school where I decide for a New Year's Resolution to give up soda (or as I called it then, "pop") as I thought i was becoming a bit too addicted to caffeine. After a few days of withdrawal, I was fine. I've never looked back. Since 1993, I've been off the juice. Other than a special Captain and Coke and super-rare RedBull and Vodka, I'm free of caffeine these days.
I really enjoy it. It keeps me balanced. I have noticed that i'm more likely to do a run or cardio activity in the morning to get going as it's really the only way I know to get my brain cruising.
I've also noticed that in the rare occasion when i do have some caffeine, man does it hit me. I go crazy. I've also noticed that if i mix lots of liquor and caffeine, i'm sometimes sleepwalk – leading to some really weird stories. That's another blog post.
While i'm on the topic, a huge pet-peeve of mine is that lack of drinks available that are both diet AND caffeine free. It's usually either-or. You have Sprite, 7Up and some root beers that are caffeine-free, and then you have Diet Coke, Diet Dr. Pepper and such. You can't have both for some reason. That really bothers me.
I was thinking about this habit of mine when I read a new article in Business Week about the decline of Coke. There's some fascinating stats in there list below.
All in all, I like being off the sauce.
—————————–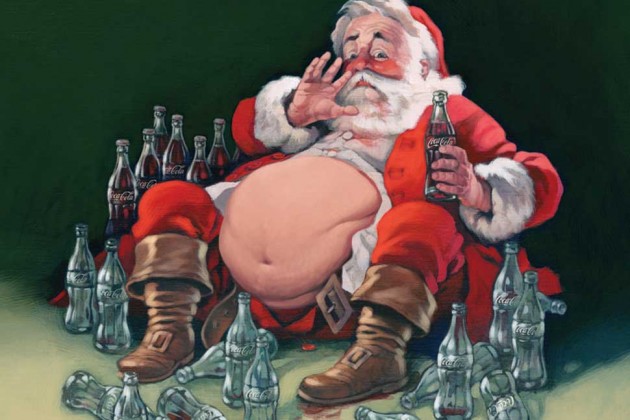 During the 1970s, the average person doubled the amount of soda they drank; by the 1980s it had overtaken tap water. In 1998, Americans were downing 56 gallons of the stuff every year—that's 1.3 oil barrels' worth of soda for every person in the country.

Since 2000, soft-drink sales stabilized for a few years; in 2005 they started dropping, and they haven't stopped. Americans are now drinking about 450 cans of soda a year,

roughly the same amount they did in 1986.

For Coke this is a problem.

Soda makes up 74% of its business worldwide and about 68% in the U.S. Sales of Coca-Cola's carbonated sodas fell 2% in the U.S. last year,

the ninth straight year of decline.

Coca-Cola made $46.8 billion last year, down from $48 billion in 2012.

Diet Coke tumbled especially hard, dropping 7 percent, almost entirely the result of the growing unpopularity of aspartame amid persistent rumors that it's a health risk.

Today,

Coca-Cola has 130,600 employees and makes 500 different beverages that people around the world drink 2 billion servings of every day.

A quarter of all carbonated beverages consumed globally are made by Coke; Pepsi is at 11%.

By 1999, according to the CDC, a fifth of all U.S. adults were obese; today that number is 35%. Obesity rates among children have tripled since the 1970s.

Coca-Cola now knows that 40 percent of the drinks customers buy have an added flavor and that people over 34 drink mostly caffeine-free Coke in the afternoon.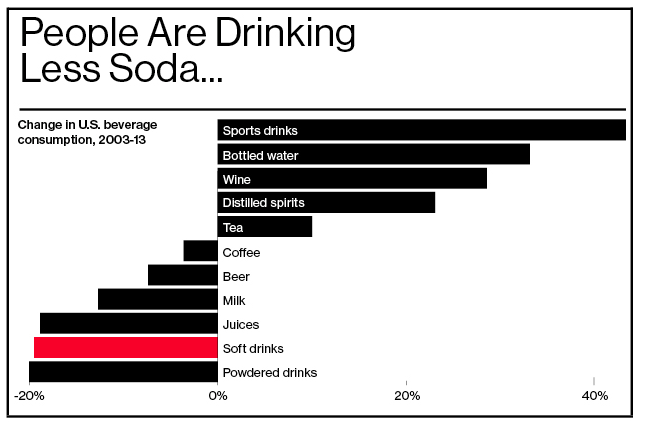 The videos and advertisements for sports flowing through the internets these days have been great. Wanted to capture and share a few for y'all:
Recently, there was a great new ad lauding Derek Jeter in the final year of his career (although it should be noted that Joe Mauer has posted better stats at age 31 than Jeter did at at 31)
Related to that, there's a send-up of the above ad by Funny Or Die, not lauding Alex Rodriguez:
For the Timberwolves, I'm all in favor of trading Kevin Love for Wiggins to the Cavaliers. Speaking of the Cavs, there's a great mock video of Lebron and his "Coming Home" campaign mashed up with Dumb and Dumber.
Finally, this is over a month old, but the Beats ad for the World Cup was definitely the best one of the summer. It came out right before the Cup started and got me incredibly pumped for it. A great ad.
(thanks to Kesner and Matt for sharing these first)
Diane and I took a trip to Iceland a few weeks and it was a fantastic time.  It was great to get away just the two of us sans Hunter.  Plus, a road trip around a really crazy island is always fun.
A things stick out for me when i think of the trip:
It's a really small country.  Only 320,000 citizens and 70% of them live in the capital city of Reykjavik
Waterfalls.  It's an island that is just a bunch of super steep volcanos and the volcanos have glaciers on top of them.   So, you can imagine a lot of water flying over the top of the volcanos.
Glaciers.  They are really beautiful.  Our visit to the Glacier Lagoon was really amazing.
Hot Springs.  There is lots of seismic activity which makes it an ideal place for hot springs.  The Blue Lagoon is a pretty cool spot.
RoadTrips are Fun.  I had a great partner and we had some great scenery, but it's always great when you can hit the road and have time to chat and reflect on life.
Here are some of the pics of the trip.  It was amazing
I recently listened to a great commencement speech by Robert Krulwich about the power of storytelling and it made me think about the power of narrative and stories in my business.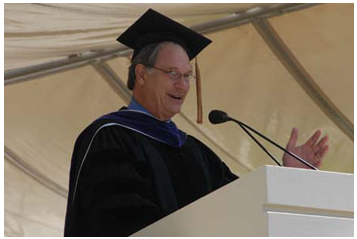 See, I work in content marketing. To most people, that's a dull phrase that doesn't mean anything. But to me, content marketing is the power of businesses using stories and entertainment and ideas to connect with their customers. It's using these stories instead of banner ads, popup ads, billboards and other branding tactics that try to distract and interrupt you. It's a powerful change in the marketing and sales landscape.
The speech talked about two gentleman who told stories. The first is sir Isaac Newton. Back in the day Newton was asked why he made his famous book about gravity and laws of motion so hard to read, he replied that that he considered writing a popular version that average people might understand but he wanted "To avoid being baited by little smaterrers in mathematics." Newton intentionally wrote a book in dense scholarly Latin that contained lots of math so that only serious scholars could follow. In other words, Isaac newton didn't care if he was understood by average folks. He did not believe in the power of storytelling.
The second was the story of Galileo. He, unlike Newton, had a flair for narrative. He wanted to tell people what was on his mind. In his famous book, 'The Dialogues' about the sun being the center of the solar system, he didn't write it in Latin. He wrote it Italian for a mass audience. The writing was gorgeous and poetic and funny. It was a running conversation between good friends who spend four days together in Venice. Their argument is between whether the earth is the center of the solar system or is it the sun. He has little pictures throughout the book and short chapters so it's easy to read. There are numbers in the book and apparently if you skip them, you don't miss that much. Because it was so easy to read and became such a hit he was actually sentenced to house arrest for the rest of his life. His stories had that much power.
I see businesses every day who want to connect to buyers and impact their lives. Not all businesses realize it yet, but their stories are competing every second with everything else on the web. If you're selling cars, you're competing with John Oliver, Facebook and hamsters eating burritos for attention and time, and the only way you can attain it is to make your content compelling and give your potential buyers a reason to read, follow and market to you.
Their are some companies that have harnessed their inner Galileo and told some great stories that are useful, and they have buyers eating out of they palms. That's the way it works.
We took a group photo on Friday here at Kapost: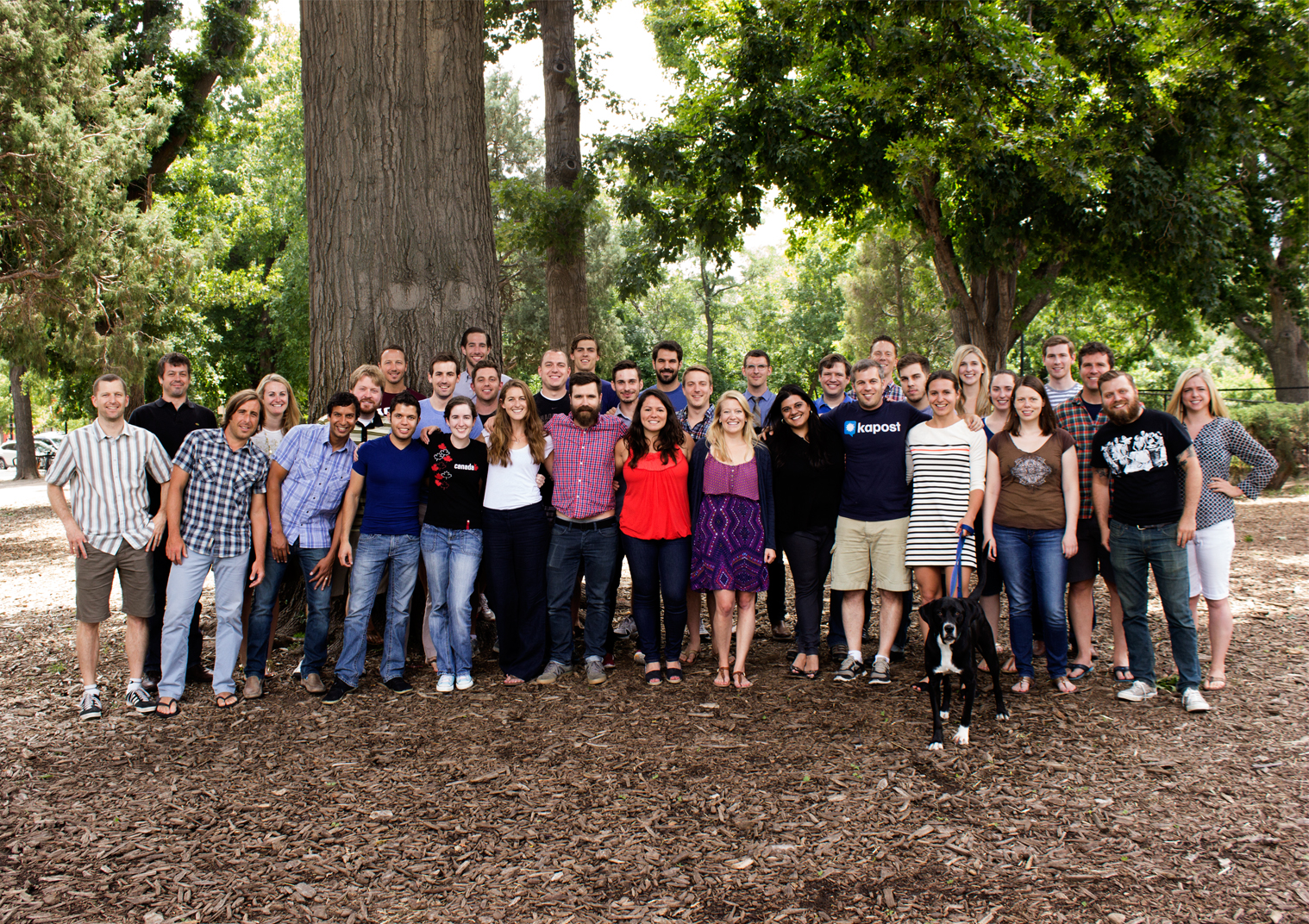 Looking at this photo and seeing how far we've come makes me think back on what's different now:
More Great People: We've grown from 12 people a year ago to over 50, and have added some amazing people to our team. From Riley to Jace to Patrick, the number of quality folks roaming our office is incredible. Our engineering and product team is full of A-players. Our marketing team is full of innovators. Our sales team is full of killers. This has been the biggest and best change.
Great Leadership: My co-founder Toby has really become a great leader and has a real knack at being able to point the ship and get all groups working towards a common goal. Similarly, my other partner, Nader, is a joy to work with as well. Having someone who can ensure that the Kapost technology is top notch and moving in the right direction and do it in such an effortless way is awesome. They both aren't afraid to challenge the team, to hold true to their convictions, and to do what's right.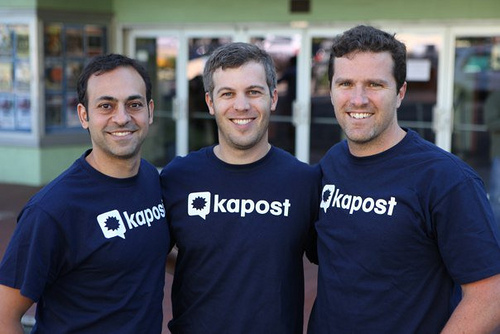 Good Discussions: We also had a board meeting last week where we went through all the areas of our business and how they're doing. We've recently expanded our board to include Paul Bell and Alex Shootman and as a result these sessions generate some great discussions about how we attack the market and grow faster.
More Specialized: 18 months ago we were only 12 people. At that time people wore lots of hats. At the time, I ran the product group, ran HR, ran account management and participated in sales. Now that we have more people, we can afford to have specialists who are top in their field. As a result, all of us are going deeper in our areas. It's nice to be able to focus, but it's quite a difference from when I was able to see and hear and participate in many other parts of the business.
More of more and more. There are lots of new things. More dogs. More bikes. More GIF's. More biking rides up Sunshine. More meetings and more meetings. There are challenges, but that's why we do it and why it's fun. We've grown a lot and I'm enjoying it immensely.
What a great game yesterday. After Jozy went down, the US was bad. Really bad, but escaped with 3 points. Without the 3 points, the tournament is basically over for them.
John Brooks scored, soccer fans roared, and minutes later, US 2, Ghana 1 was in the books as a great win. I was sure that Brooks was going to be a disaster, but instead, Brooks, only 21, is a hero. Nicely done.
Some interesting tidbits from the game:
Here's a video of a collection of videos from around the world of soccer fans celebrating the Brooks header off the foot of Graham Zusi.
A cool video fo the tweet volume before and after the goal
John Brooks found his wikipedia entry edited last night right after the game. Seems a big more accurate now:

Updated Soccer Power Index odds to advance: Germany 98%,

#

USMNT

63% (33% pre-Ghana), Portugal 27%, Ghana 12%.

Some notes i learned about Ghana during the game:

They were rationing electricity so that everyone in the country could watch the game

vs. the US. (link)

Women in Ghana get 84 days of paid maternity leave (US get zero)

The official language of Ghana is English although

the country is divided into small groups that together speak more than 50 languages.

Gold and cocoa are considered a mainstay of their economy
That's it. Really looking forward to Sunday's match against Portugal.
(thanks to Kesner for some interwebs stuff)
Read an article this weekend about Spotify in Wired. It now has 10 million subscribers paying $10 a month. Because they have to pay 70% of each track's revenue back to the labels, that doesn't leave much margin left. Thus, they are still plowing through cash. They've spent over $200 million dollars to date. In 2011 reported a loss of 59 million (24% of revenue 245mm) and 2012 had loss of $72 million (13% of 558mm).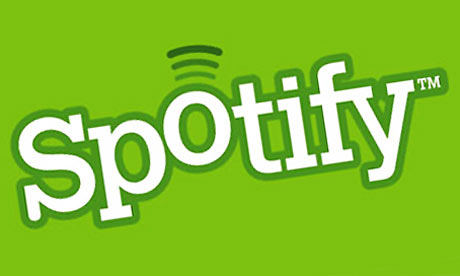 I've always thought that the music industry is f'ed and if you're the number 1 streaming provider and you're not doing well, something's wrong.
Related content: You'll never make money with a music service
Well the time is cursing by and Hunter is growing up really fast. I thought i'd take another moment to reflect on how things are going. Some thoughts:
Hunter's Development
Man is he growing. The first year now seemed more about physical development. He was just getting bigger and learning how to use his limbs. Now he seems more about exercising his brain. He's constantly trying to figure stuff out. How to open jars. How doors work. Why switching a light switch here changes the brightness over there. Lots of stuff like this are all the rage at our house right now. So much so that i have found that if you're not challenging what he knows, he gets bored quickly and then things spiral out of control. He's a high bandwidth kid. I have no idea if this is unusual or not.
Because this is now the norm, he's much more of a little person these days. He has expressions and words and a personality. He's definitely a human and, to me, he's getting cuter and cuter.
The Tradeoff
I recently heard Shondra Rhimes' Dartmouth commencement address where she talks about how she's both a working woman and a mother and how she juggles it all. Her answer: she doesn't. I know how she feels. Prior to Hunter, I would work pretty late almost every night. Now I like to see Hunter before he goes to sleep. There's a struggle between being doing well at work and seeing my family, and I don't think there's a good answer. Ultimately, I'll always be failing at one of them. I'm having to get used to that fact. It's quite a change.
Shondra says it much better than I:
If I am killing it on a Scandal script for work, I'm probably missing bath and story time at home. If I am at home sewing my kids' Halloween costumes, I am probably blowing off a script I was supposed to rewrite. If I'm accepting a prestigious award, I'm missing my baby's first swim lesson. If I am at my daughter's debut in her school musical, I am missing Sandra Oh's last scene ever being filmed at Grey's Anatomy.

If I am succeeding at one, I am inevitably failing at the other. That is the trade off. That is the Faustian bargain one makes with the devil that comes with being a powerful working woman who is also a powerful mother. You never feel one hundred percent okay, you never get your sea legs, you are always a little nauseous. Something is always lost.
Old People
I'm constantly amazed how similar babies are to old people. The drooling, the babbling, the lack of coordination. Just very very similar. Circle of life.
Default State of Happiness
When Hunter wakes up in the morning, he's smiling. By default, he's happy. He's giggling and smiling unless something happens to make him upset. It makes me think that this is the default state for most humans. I often think about this. I wonder that if we have to have something negative happen to us to be in a permanent bad mood. I see people yelling at traffic or walking the street with a frown on their face. They weren't born that way. Something has happened. When i'm feeling upset or sad, I try to remember that. It's the world interacting with me that got me there. It's not how I am by default. I like that thought.
I was chatting the other day about why Snapchat is so popular. Most people think it's because of sexting and the fact that the photos disappear, but i think it's more than that. I recently came across a speech by the Snapchat founder (Evan Spiegel) and thought it was pretty enlightening as to how he sees usage occur.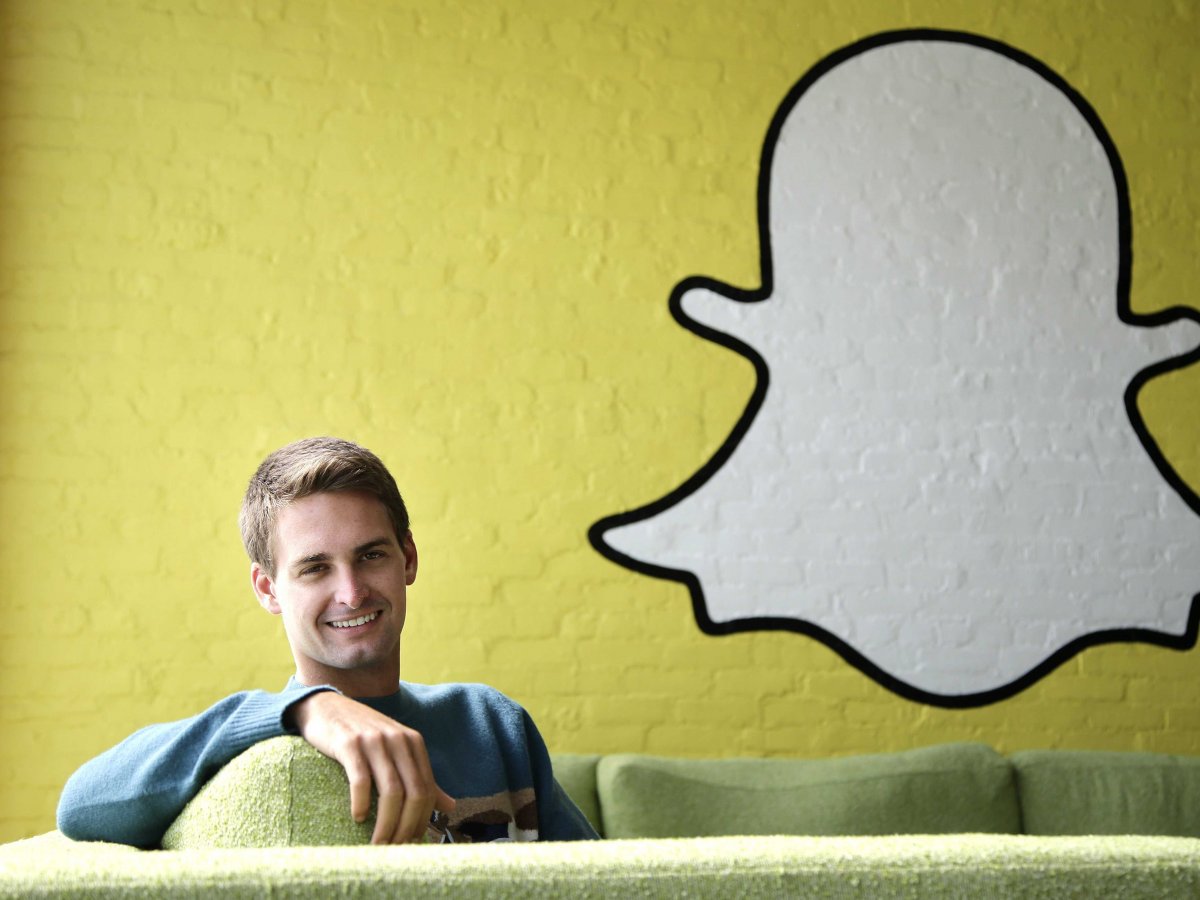 He talks about how people today don't want to fully recreate their offline experience online. They want to be online but understand that their online profile isn't the sum of them. It's a pretty different view. A highlight of the speech:
Traditional social media required that we live experiences in the offline world, record those experiences, and then post them online to recreate the experience and talk about it. For example, I go on vacation, take a bunch of pictures, come back home, pick the good ones, post them online, and talk about them with my friends.

This traditional social media view of identity is actually quite radical: you are the sum of your published experience. Otherwise known as: pics or it didn't happen.

Or in the case of Instagram: beautiful pics or it didn't happen AND you're not cool.

This notion of a profile made a lot of sense in the binary experience of online and offline. It was designed to recreate who I am online so that people could interact with me even if I wasn't logged on at that particular moment.

Snapchat relies on Internet Everywhere to provide a totally different experience. Snapchat says that we are not the sum of everything we have said or done or experienced or published – we are the result. We are who we are today, right now.
He then also talks about how when you take the photo away, it's more about the feeling and not the photo. It's subtle but powerful difference. He says:
Snapchat discards content to focus on the feeling that content brings to you, not the way that content looks. This is a conservative idea, the natural response to radical transparency that restores integrity and context to conversation.

Snapchat sets expectations around conversation that mirror the expectations we have when we're talking in-person.

That's what Snapchat is all about. Talking through content not around it. With friends, not strangers. Identity tied to now, today. Room for growth, emotional risk, expression, mistakes, room for YOU.
I like that concept. And with that it's clear why people, especially teenagers, would want a more forgiving medium.
Note: blogged about Snapchat almost a year ago and the massive growth they are having: http://loo.me/2013/06/lets-talk-about-snapchat/