This month, The Daily Beast pointed out in "Tech's 29 Most Powerful Colleges" and it had Dartmouth at the top. As The Beast says,
Our goal was to identify which colleges, compared student-for-student, have turned out the most undergraduates destined for high-tech greatness. While our results included many prestigious names, the rankings produced surprises as well. At the top of the list is a spot nearly 3,000 miles away from Silicon Valley.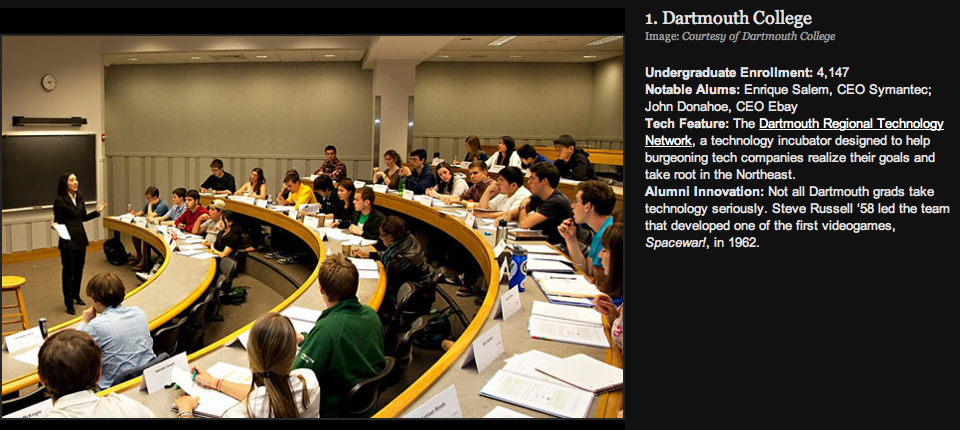 That right baby! These results don't surprise me. Making my way through the tech entrepreneurial world, I've encountered lots of Dartmouth alums as both entrepreneurs and VC's. Dartmouth also has a long history in pioneering technology. Some key notes:
In 1956, a Dartmouth math professor coined the phrase "artificial intelligence" and "AI" (link)
In the 60's, The Dartmouth Time-Sharing System, was the first large-scale time-sharing system to be implemented successfully – setting the stage for the large server farms we see today at large companies such as Google.
1964, Dartmouth created the BASIC programming language which became a extremely popular language in the 70's and 80's.  In 1975, Bill Gates and Paul Allen developed a version of BASIC as their initial plan for Microsoft and today's MS Visual Basic is still a derivative of that initial creation.
Since 1991, computers have been mandatory for all students and in 1988 had campus-wide email working (before AOL!)
In 1999, Wired magazine named Dartmouth the #1 most wired College in the country and in 2001, it became the first school in the country to be completely wireless (link)
It's clear the Dartmouth is doing something right.  It's nice to get the recognition.